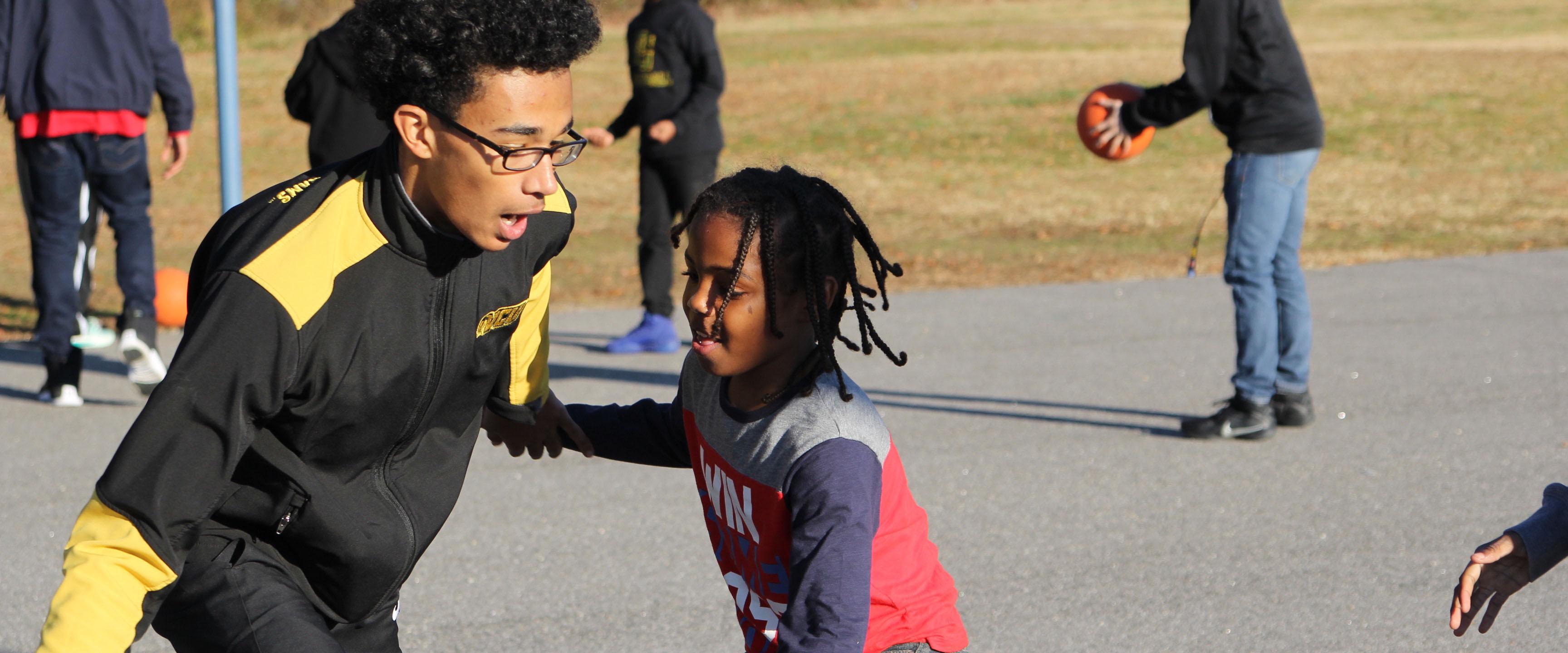 Basketball players have to balance school, sports, and their personal lives, which can take up quite some time. But these players are involved in another activity – "Carr's Kids," a program where the players mentor fifteen young students from Walton Elementary.
The program is relatively new, created by head basketball coach Travis Carr, the program has been running for about one month.
"With all the negativity you see in the news these days, I wanted to use our basketball platform for a positive movement," Carr said. "I was actually inspired by President Obama's My Brother's Keeper program for adults," he said, mentioning a similar, nationwide program, in which young adults mentor students in grades six through nine.
Every Friday after school, Carr and the players head to Walton to meet the kids. Carr recognizes the kids who have had a particularly good week. Next, the kids and the players all take a break together. They have snacks, and each player talks with the student they mentor. If they have time, they all play basketball together at the end.
One basketball team member, sophomore Patrick Gee, is a member of the group and mentors one of the students.
"We try to see what their main problems are," Gee said. "[Like] if you can't get along with a student or a certain teacher, we try to help them with that."
Every Friday the students have a private conversation with the players. The talks help the students and the players bond more closely, and they are a place for the students to talk about things that are troubling them. The players and the students talk about all kinds of things, ranging from their grades to things happening at home.
"They talk about what's going on in their lives, any behavior improvements, academic improvements, and just 'guy talk' they may not get at home," Carr said.
And the players don't just talk to the kids on Fridays – they talk and give advice throughout the week.
"Some of us text our kids [outside of school] to check up on them," Gee said.
While it has only been running for a short time, Carr's Kids has already had a positive influence on the students.
"We brought them their own PG Basketball T-shirt, and they wear it every Friday when we meet. One of the kids asked me 'can I wear this on the other days of the week too?'" Carr said. "And that's what it's all about."
The mentoring program has been a positive experience for not only the kids, but for others, as well. The program has left a positive impact on the players' lives, too.
"It's shown me how fortunate I am, and how lucky I am," Gee said about his experiences in the program.
The program has even positively influenced the team's coach. 
"[It] has taught us that we are more than just varsity basketball players," Carr said. "We have the potential to make life-altering impacts in the lives of young people. Wins on the court are great, but winning off the court at times [is] even better."