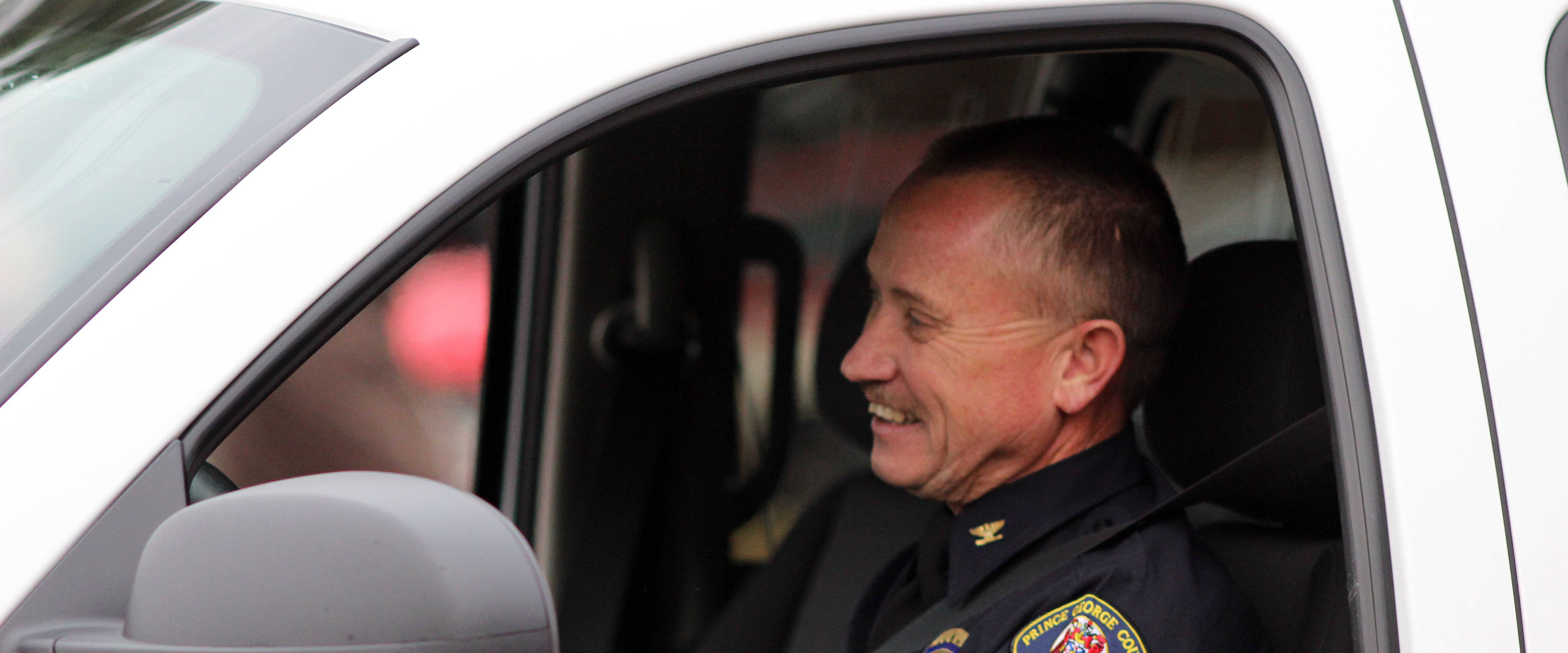 In April 2015 Chief of Police, Eddie Frankenstein, announced his retirement from the police force effective the first of October.
For the past 15 years, Frankenstein has honored this county with his bravery and dedication to keeping the community safe. When Frankenstein moved here with his wife in 1980, he started his service with the police department.
"After getting my associate's degree in criminal justice, I knew I wanted to get into that occupation," Frankenstein said. "I tried a couple of other agencies but I always wanted to go to Prince George because my father always spent a great deal of time in Prince George…and the citizens were always friendly."
Frankenstein was appointed Interim Chief of Prince George Police twice before actually stepping up to take on the role as Chief of Police in 2000. Not only does being the Chief of Police mean having to be on call, but also there are many leadership roles to fill. Frankenstein managed a yearly budget and oversaw the activities of the entire police force as well as the K9 unit as chief. Most chiefs are done after seven or eight years because of how stressful their job can be, but the county was lucky to have Frankenstein for 15 years.
"There were so many accomplishments that the department made," Frankenstein said. "Two big items would have to be always establishing a great partnership with our citizens and accomplishing Accreditation Status." Accreditation Status is the honor of sustaining professional standards by the officers in their line of work
Where there are good things happening in the community, like creating new technology for police cars and establishing different programs to benefit the public, there are also the bad things going on. Frankenstein exclaims that being a police officer is not only rewarding at the end of the day but also difficult in certain day to day situations.
"The hard times were probably seeing the bad side of people who chose to do illegal things instead of the right things," Frankenstein said. "But certainly the toughest part was seeing young children get hurt or see the parents hurting each other. Children should be able to grow up and have fun and learn things that will help them be successful."
Frankenstein loves seeing kids learn and grow in the safe environment of Prince George. Having been a recreational soccer coach for 18 years, he is thinking about becoming a coach again now that he is retired.
"Short term plans are to catch up on some 'to do' items around my house and my sons' house," Frankenstein said. "Do some hunting and fishing in-between and after the first of the year I would like to begin looking for a part time job."
Other than his love for recreational sports, Frankenstein enjoys doing things with his two sons. They are always a high priority with him.
"Prince George is a great place to live and work," Frankenstein said. "Prince George remains a locality that we should be proud of for many reasons. We need to look around us to really appreciated what we have."
As the search for a new Chief of Police starts, the county yearns to find another individual to put the time and effort into the job.
"But one thing I will miss the most is having the best officers and employees a chief could ever have," Frankenstein said. "Without them, everything else could not have been done."