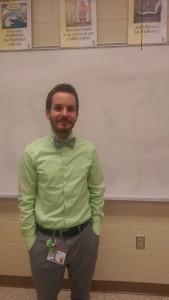 As a 15-year-old kid in Long Branch, New Jersey, Stephen Marowitz experienced the influence that authors, words, and characters can have on a person's life. In fact, it was the words and characters in F. Scott Fitzgerald's The Great Gatsby that inspired him to become a teacher and show students the power of literature.
"The simplicity, but also the complexity of his words was inspiring," Marowitz said. "I think in [New] Jersey we read Gatsby in the ninth grade, and for the first time I realized that characters could be so real and that language could be so powerful."
Marowitz grew up in New Jersey, but at 17 he left his hometown and school, Shore Regional High School, and moved to Virginia with his mother, who was originally from Falls Church, VA.
After graduating from Albemarle High School in Charlottesville, VA, Marowitz chose to attend Lynchburg College, as it was in close proximity to his mother, who was ill at the time. During his time at Lynchburg College, he obtained a bachelor's degree in English with a minor in secondary education.
While majoring in English, Marowtiz came across more authors that inspired him. In addition to Fitzgerald, Marowitz draws inspiration from the authors Gertrude Stein, Ernest Hemingway, and poet Fernando Pessoa. Pessoa is a modernist poet who wrote under 70 heteronyms, which are pen names with unique personalities, characteristics, and lifestyles.
"One of [Pessoa's] quotes is 'He never felt like the same person two days in a row,'" Marowitz said. "I like that because I feel the same way. I'm always changing- my beliefs, my job; I'm getting married. I have a new house."
Pessoa only wrote his poems in Portuguese, which Marowitz is teaching himself in order to read Pessoa's poetry.
"I've been using Rosetta Stone and Duolingo," Marowitz said. "My dad's wife is also Portuguese, so she's been helping me to read [Pessoa's] work. It's a tough language."
Marowitz has, in more recent years, taken an interest in Russian literature and culture, and also draws inspiration from Russian writers like Leo Tolstoy, who is famous for novels like Anna Karenina and War and Peace.
Marowitz's position at PGHS as an English 10 teacher is his first solitary teaching position out of college. Before accepting the position as an English teacher, Marowitz was teaching piano classes full time.
"I've played piano for 20 years," Marowitz said. "Music is a big part of my life."
Not only is music a big part of Marowitz's life, but he also enjoys spending a lot of time outdoors. Some of his favorite activities include hiking and kayaking.
Marowitz was excited to begin the school year and is looking forward to his future at PGHS. After reviewing the curriculum, he is most excited about teaching Harper Lee's To Kill A Mockingbird because he feels like the students will be receptive of the novel.
Keeping students focused and interested in their work will help Marowitz accomplish his ultimate goal.
"My fantasy is that I will make every student love reading and literature as much as I do, but in reality I want to make students more active readers and more fluid writers," Marowitz said.
Despite being a new staff member and a first time teacher, Marowitz feels widely accepted by all the students and staff at PGHS.
"I've been here two weeks and it feels like home," Marowtiz said. "The staff and English department are so patient and understanding. The students are so respectful, and anyone is willing to lend a helping hand any time they can."