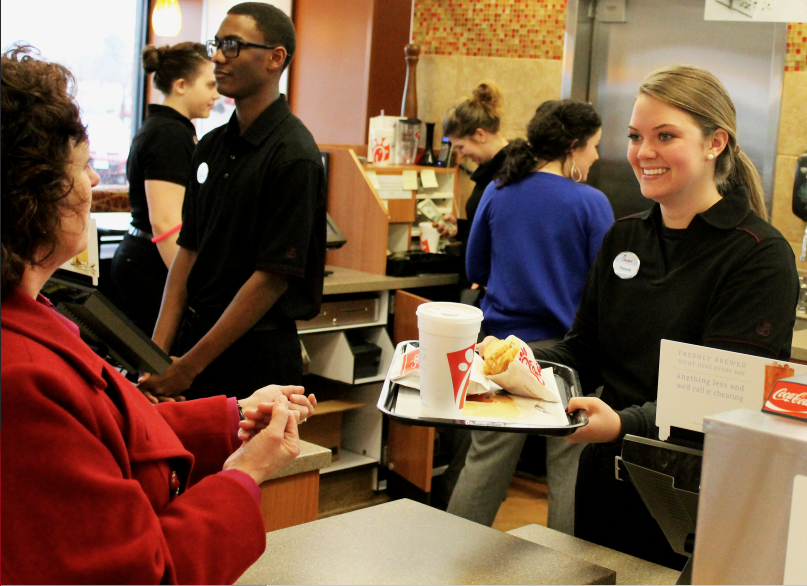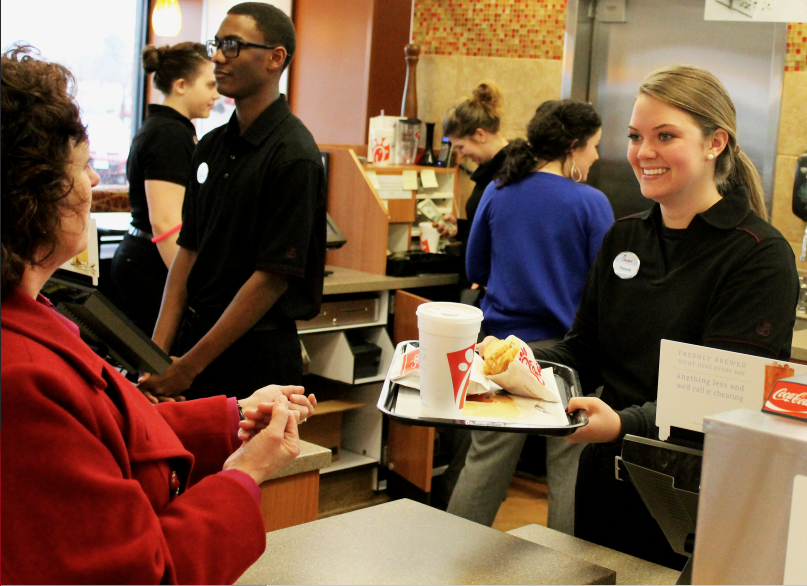 46 years have passed since the opening of the first Chick-fil-A in Atlanta, Georgia.  Over 1,500 restaurants later, the first stand-alone Chick-fil-A has finally been brought to the Tri-Cities.
As many high school students continuously look for a job, several have decided to jump on this opportunity to work for this chicken mogul for various reasons.
"Chick-fil-A is good with scheduling so I can easily work around my busy schedule as a student-athlete," junior Jessie Honaker said.
While their motives to work for Chick-fil-A do vary, the most common factor to apply was for the money.
"I applied to work at Chick-fil-A because my mother told me to get a job so I could pay for my own gas," junior Jordan Nase said.
Along with their new jobs, student employees have found many advantages of working at Chick-fil-A as opposed to other major fast food joints.
"I am able to get all of my schoolwork done and be able to hang out with friends because I don't have to work on Sunday," junior Heath Pack said.  "I also think that it being my first job, it will help me learn how to manage time and become more responsible."
With steep competition from the constantly developing Colonial Heights area, Chick-fil-A's opening week in Colonial Heights was very successful.
"Opening week was extremely busy; we sold $20,000 in sales in one day that week," Pack said.  "We were extremely busy every hour of our first week."
As expected, Chick-fil-A's location in front of the Wal-Mart in Colonial Heights played a key role in the success of its debut week.
"The first week was very stressful but it was also a great learning experience," Honaker said.  "The first week was helpful for our future at Chick-fil-A because our trainers were able to guide us through all of our tasks as we did them."
 Chick-fil-A's stance as a religious business played in to the decision to apply to Chick-fil-A for local high school students.
"Chick-fil-A's morals were one of the reasons why I applied; I have some of the same morals in place in my life," Nase said.  "I feel very comfortable knowing I am working around same-minded people."
Despite the controversy over their founder's stance on gay marriage in the past several years, Chick-fil-A has successfully weathered the storm of judgment that has clouded their immense success.
"Being in a friendly, Christian atmosphere definitely makes me comfortable while I am working," Honaker said.
With the new Chick-fil-A built and open for business in Colonial Heights, it gives students another hang-out spot to grab some food, not only with their friends, but also from many of their friends.
"Working in this atmosphere where I constantly see classmates and peers increases my level of comfort," Pack said.  "Seeing friends makes it easier for me to be myself while working."
Along with the income and interaction with classmates, Chick-fil-A employees see a one-of-a-kind experience that they believe will immensely help them with future jobs.
"Working at Chick-fil-A I believe will help me become more responsible," Nase said.  "I also believe it will help me manage my time more wisely in the future."
From the experience to the food, high school employees are satisfied with the brand new Chick-fil-A in Colonial Heights.  What they are enjoying the most is the atmosphere of working alongside their classmates.
"The best thing about working at Chick-fil-A is being around my coworkers and classmates.  Everyone I have encountered has a positive attitude, which is encouraging and refreshing to be around," Honaker said.