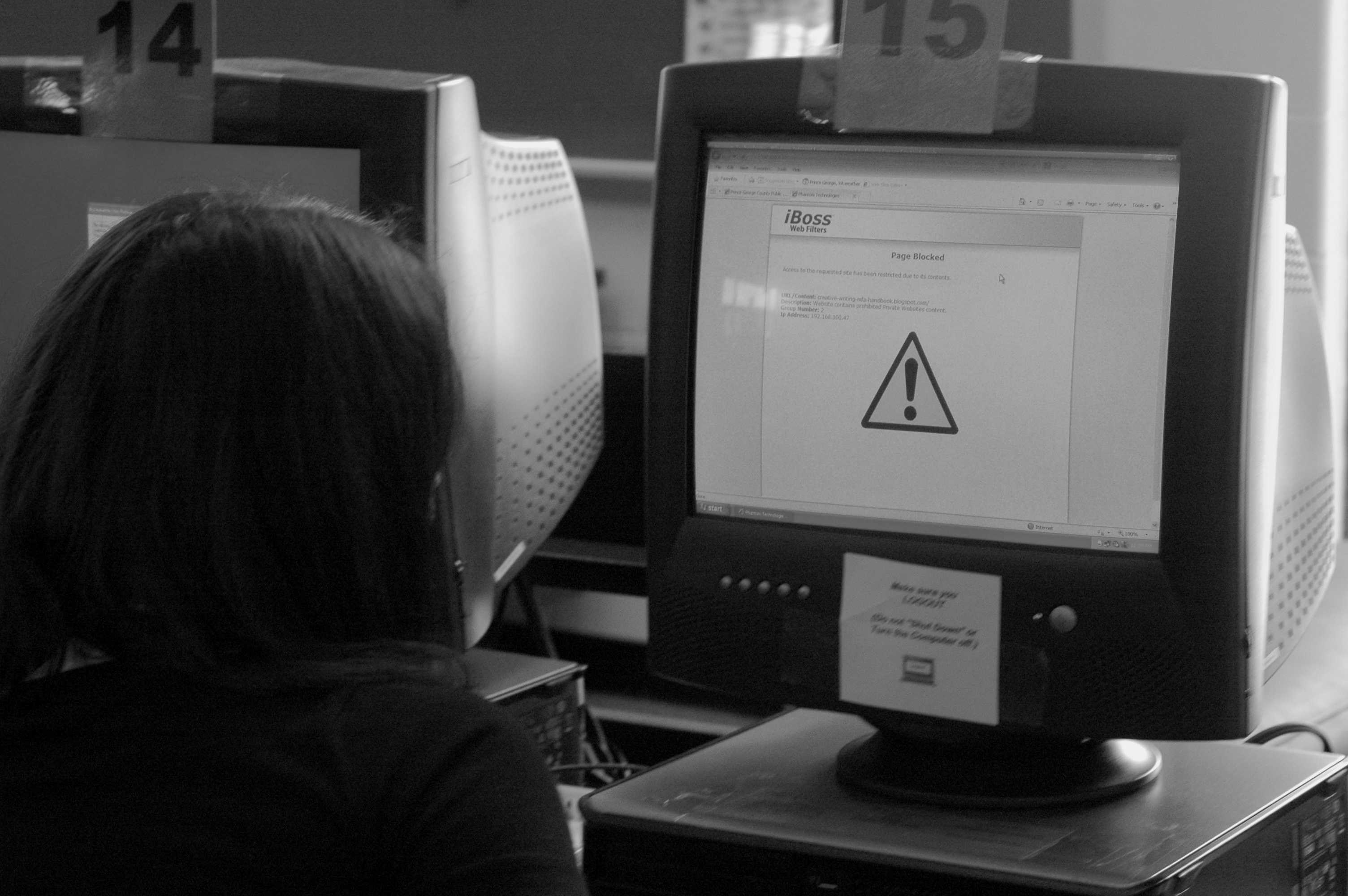 School has been back in session for only a few weeks now, but the 2013-2014 school year has already brought some big technological changes to the schools.
Students are not able to access any site used for file sharing, such as Google Drive and Gmail, due to the county's firewall system. A system like this is implemented to prevent anything obscene from being viewed on any school computer.
"We are required by federal law to have an internet content filter," Director of Prince George County Public Schools' technology department, John Brockwell, said. "CIPA, which is the Child Internet Protection Act, says that we have to filter any pornographic or adult related images, stories, or webpages of any type. That's why we're forced to have [the firewall] by law."
Although the firewall helps keep school computers safe, some students are frustrated by the restrictions that have been put in place.
Junior Hannah Collins is one of these students. The firewall affects her researching for a project in her Independent Study class.
"I have this class every other day where I have to do research and most of the best websites for information were blocked," Collins said.
Other students have also been affected by most Google affiliations being blocked. Of 100 history students surveyed, 95 say they use Google as a research resource for school. Twenty two of those 100 say they use Google Drive in school, and 44 say that Google Drive being blocked in schools is a problem.
So one would ask, if a percentage of students rely on these websites that are now blocked, why block them?
"What we filter is determined by school policy that we set up, the federal government says there are things we have to filter," Brockwell said. "We choose to filter other things based on what is good for the school system. We've had to filter something because, even though it doesn't seem like adult content, some students find a way to pull adult content out."
Another reason the filter is in place is to save bandwidth.
"We found that by blocking Google images we save a lot of bandwidth," Brockwell said. "Bandwidth is very important to the school system."
Bandwidth is taken up when certain websites, like those that provide e-mail, are used.
"We [also] found that with mail issues, we had a couple of cases where students were bullying and threatening the students sitting right next to them," Brockwell said.
The firewall system is currently being implemented along with a new parent portal, Tyler SIS. The Tyler SIS software may be an updated version of Portal, but the two technology systems resemble each other greatly.
"The main thing is, it's a truly web based system which makes it easier to use, you can access it whenever you have Internet connection, and parent portal has a lot more information," Brockwell said. "[Tyler SIS] still tracks students information so the basic purpose has not changed."
The introduction of a new parent portal was greeted with mixed reviews from the students and their parents. Brockwell believes the system will be beneficial to the county.
"It allows the parents a broader insight into the student's information," Brockwell said.
Each piece of Prince George's new technology layout is in place to provide for a safe learning environment. The newest piece of technology that will potentially be added would be the use of WIFI in the schools. Students would be able to use their phones to take notes, record lectures, and even do research all at the click of a button. This plan is being tested at South Elementary, which this year became the first school in the county to go wireless. Allowing students to use their resources would broaden the way we think about learning, but these advancements are also met with some challenges that prevent the plan from being enacted in all schools yet.
"If we have WIFI hot spots like Starbucks and McDonalds or any other places like that, all night we would have people parked in the parking lot surfing the web," Brockwell said. "As we pull in the wireless, and that's going to become more and more prevalent in the school district, the filter will allow us to put policies in place that decide what the wireless devices that we don't recognize can access."
As the years go by, the technologies students have access to are widely expanding. Each day brings a new advancement, so much that by 3013 who knows where we will be.