Alumni April Ford, the newest addition to the guidance department, started her first year of being a guidance counselor at Prince George this year. Prior to this year, Ford counseled at Hopewell High School for two years.
After graduating in 2006, Ford pursued her Bachelor's degree in Psychology at Liberty University with a minor in youth ministry. She stayed at Liberty and received her Master's in counseling.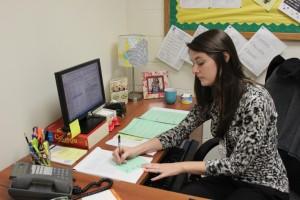 Coming back to Prince George as part of the faculty has changed her perspective of the school. She described it as an interesting experience.
"It's exciting to work here at my alma mater," Ford said. "But it's definitely a little strange working with teachers who I had."
Working at Hopewell High School was different for Ford, mainly because of their four classes per semester scheduling system. Otherwise, the experience was very similar.
Ford came back to Prince George because of the job availability and enjoys how everything has worked out.
"If I had to be honest, I wanted to go wherever I could get a job. But it worked out perfectly," Ford said.
As a guidance counselor, Ford finds her work rewarding, being able to build relationships with the students and helping them. Her least favorite part is all the paperwork.
Ford plans to continue down the path of counseling. She enjoys it so much she cannot imagine doing anything else with her life.
"I'm very lucky and fortunate to have found something I love doing so early in my life," Ford said.