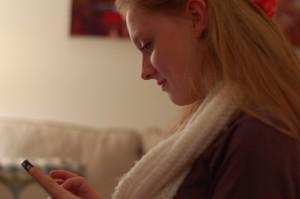 By Lindsay Pugh
An app is defined as "computer software designed to help the user to perform specific tasks." In recent years, the word has taken on a more interesting meaning.
Apple's app store has over 225,000 apps, with some 435 thousand new apps predicted for 2013. $29.5 billion dollars are projected in profit from app downloads.  The app store launched in July 2008, beginning with a mere 500 apps. By November 2009, that number had jumped to 10,000. The  billionth app download was in of April that year.
Designing an app is relatively simple, but not without cost. To develop an iPhone app, one must first purchase a Mac; other types of computer software is not compatible for app development. After registering as an Apple developer, one downloads multiple software programs and begins to create the app. Loading the app onto iTunes raises the cost another $99. This fee allows the the app to be tested by the Apple community, which helps the developer realize any problems the app may have. After fixing any hiccups, the app is put on the market  for downloading by other Apple users.
Apps have been made by more than the stereotypical computer developers, including now twelve-year-old Lim Ding Wen and Facebook founder Mark Zuckerberg. Wen invented  Doodle Kids, a drawing app designed to entertain his younger sisters, when he was only nine.
In 2003, well before Facebook, Zuckerberg designed an app called Synapse Music. The app is designed to study the listener's music tastes and suggest music for them. Both AOL and Microsoft offered to buy the app, but Zuckerberg released it for free. The app is referenced in the 2011 movie The Social Network.  At the time, one review described Synapse as  "by far the most innovative media player I have seen."
Some apps are more eccentric than Facebook and Temple Run. HangTime measures how high a user can throw an iPhone as compared to other users and how long the phone stays airborne. The app costs 99 cents,  notwithstanding the cost of a broken iPhone if it falls out of reach. Another iPhone app, UK Payphone, finds the nearest payphone in the United Kingdom to the user's location. It can be assumed the person does not need the payphone to make a call, since they are holding an iPhone.  Hold On, designed to improve concentration, is a game where the user holds down a button for as long as they can.
With unemployment in America at 7.9%, there are many apps available geared towards joh-hunters. Interview Questions and Answers ($1.99) asks the user up to 150 questions an interviewer might possibly ask.   JobCoach ($2.99) is an app that uses 2 minute clips to coach the user through the application process. Body Language for Dummies ($0.99) is an app that teaches the user to interpret body language, which can help them send a positive message to their interviewer as well interpreting the message the interviewer is sending back.
Apps are even being used in the medical field. Graduate students at VCU use Skyscape and Medscape regularly. Both serve as a reference for medications, medical conditions, and surgical procedures.
Apps are available on Apple devices and Google Play, the source for apps on Android devices.
In 2012, Youtube was named the iPhone's most popular free app and Angry Birds was named the most popular paid app.
As of 2012, the most popular apps of all time include Netflix, Words with Friends, Shazam,  Google Earth, the Weather Channel, Pandora radio, Skype and Facebook.
Need something to pass the time, find the nearest Chinese restaurant, or even propose? There's an app for that.