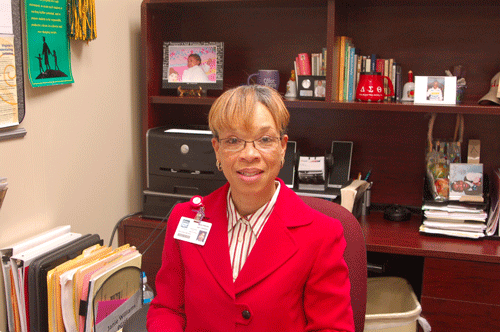 By Michelle Williams
Assistant Principal Janie Williams's life is filled with inspiration from female role models. Her goal in life is to be an educator, and help inspire students to be their best.
As a role model herself during Women's History Month, she believes her life has been an inspiration in itself.
"My mom died when I was eleven, so my older sister was a role model to me," Williams said. "I consider her a woman of great strength and courage."
Williams was also greatly inspired by her second grade teacher.
"Mrs. Bunch was a great influence outside of the family realm," Williams said. "She showed real professionalism and cared about us."
These women in her life have motivated Williams to become the educator and mentor that she is today. Education has always been something that she enjoys.
"I love being an educator, it is my greatest joy," Williams said. "It's great to touch so many lives and see how well former students have done."
Being an educator as well as a woman is very important to Williams, she believes that being in positions like these will put women to a higher standard, rather than the inferior level that they used to be in.
"Now there are more women entering the higher education institution," Williams said. "But we still do not get the opportunities of our male counterparts."
In the end, women like Williams have made a place for themselves in many fields, including education.
"We've always had to put ourselves out there, but we still have a tendency to lag behind," Williams said. "We need to do a better job taking care of us."