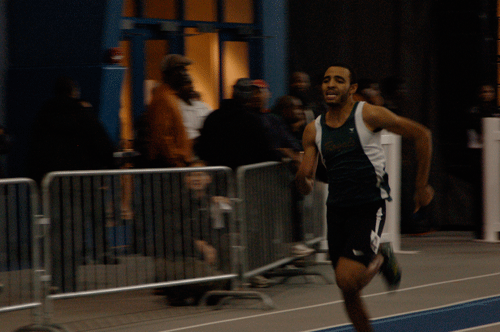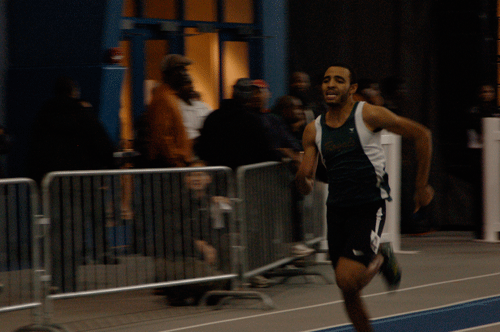 By Kevin Harris
It may look at first that track is all about speed but that is not the case. While speed is a big part, there is also quite a bit of strategy that goes into running a race.
Runners not only have to prepare physically, they have to prepare mentally as well.
There is one big strategy that comes into play in some races that others do not have, and that is the baton in relay races. Relay races are important because they earn a lot of points for a team at a track meet. The baton is just a small piece of pipe, but it plays a huge role in races. A dropped baton in a race results in a disqualification for that team.
"When exchanging the baton you try to get it to the other person as quick as possible without slowing down," senior Reggie Love said.
"The exchange becomes natural," senior Brandon Parsons said.
The runners work on their exchanges in practice. "We practice it a lot so we get the distance and stuff down like the arm lengths down," junior Keith Jefferson said.
The 4 x 200m relay team of Love, Parsons, Jefferson, and junior DaQuon Chapman will be trying to combine both speed and strategy to break the current Royals
indoor track record for the quickest 4 x 200m relay race. The current record that was set in 2004 is currently held by T. Warren, A. Brown, Q. Johnson, and R. Hall.
These 4 athletes ran the 4 x 200m in a time of 1:38.1. If Love, Parsons, Jefferson, and Chapman can break this record, they will be put among the top track competitors in school history.
Strategy also differs in what kind of runner one is. Sprinters' strategies differ from those of a long distance runner.
"The baton exchange also differs between long distance runners and sprinters. For distance runners it is not too extremely important because you have that time to make it up," head track coach Mark Tomlin said.
"Sprinting is all about speed, it is natural," Parsons said.
When running long distance races, one has more things to focus on when they are running a race. These things can be attributed to the longer length of these races.
"Distance running tests your endurance," Love said
"Distance running has a lot more mental aspects to it then sprinting; you have to decide when you are going to pass somebody or how you are going to prevent someone from passing you," Tomlin said.
So whether one is running a 100m, 200m, 1 mile, 2 mile or even a relay race like the 4 x 200m or the 4 x 400m, each has its own unique strategy that can make or break the relay team or runner. From handing the baton to a teammate or just getting off the block quickly, a runner's mind and focus come into play in track more than what first meets the eye.
"90% of the race is mental, believe it or not, it sounds cheesy but it is real," Love said.