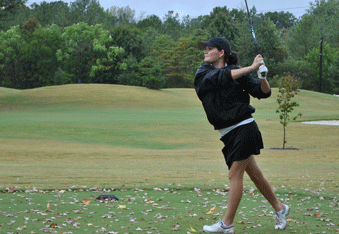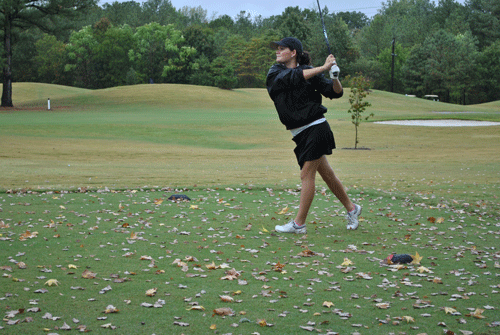 By Wayne Epps
Sophomore Taylor Harris lines up at the tee for another hole. Caught in the heat of competition, she and her teammates strive to play the best round of their lives. The only difference between Harris and her teammates is that she is female.
The golf team practices at Jordan Point Golf Club Monday through Thursday. Practices consist of playing nine holes of the course. The team usually competes twice a week. In a match, players play in three groups of four consisting of two players from one school and two from the other.
Harris has played golf for two years. This season she is the second-ranked player on the team. She was influenced to start playing by her cousin, 2010 graduate Aaron Harris. He also played on the team, and has been playing golf for five years.
"[Aaron] always played, and I thought it would be neat to play with him," Taylor said.
"[Taylor] has come a long way since she first started playing. Hopefully I had a good influence on her game," Aaron said in a Facebook interview.
Taylor fits in just fine with the rest of the team. She enjoys interacting with her teammates, and has created good friendships with them. She is treated like just another one of the guys.
"I have actually made the best friends I have ever had; Dalton Jolly, and Jeremy Carrell who graduated last year, and Evan [Montgomery], and Ryan [O'Hare], and all of them. They are all my best friends, and I really enjoy it," Taylor said.
"She is just one of the team, she is not really any different," senior Dalton Jolly said.
There may be good friendships between Taylor and her teammates, but that does not take away from heat of the competition for spots on the team.
"I have known [Taylor] for two or three years. [Our friendship] has been a pretty competitive thing, because we have always fought for the same spots," senior Ryan O'Hare said.
Even though Taylor is the only female golfer on the team this season, there have been others in the past.
"I have been [coaching] for twenty-seven years; so this is like the third girl I have had on the team," Golf Coach Earl Burton said.
Golf is a family affair for the Harris'. Not only did Taylor's cousin Aaron play on the team, Taylor has another cousin, freshman Adam Harris, who is also playing this season.
"They [the Harris family] are a very close-knit family, and I think that is one of the reasons why [Taylor] came out," Burton said.
"[Taylor and I] still play together a lot. We play almost every week together, and we are always competitive because I cannot let her beat me," Aaron said.
The amount of the golf course that female golfers play in competition is smaller in comparison to the amount played by males. In most high-school matches, players play nine holes of the golf course.
"The girls play eighty-five percent of what the guys do. So it is shorter, and it is like that all the way through district, regional, and state," Burton said.
When Taylor steps out onto the golf course, it is all business. She works very hard and tries to do her best on every part of her game.
"[She is a] hard worker, she is very intense, I think she gets that from her mom and dad, but she is very dedicated to golf," Burton said.
"No part of my game is probably the strongest; I work hard on every part. I go to practice every day, I hit on the range, I putt, I chip, I do what I can do to be the best I can," Taylor said.
Male or female, it does not matter. Taylor is talented at her craft, and the sky is the limit on her ability to be a great golfer.
"It is unlimited. She has the skills, and if she keeps working at it, she can be very, very good," Burton said.