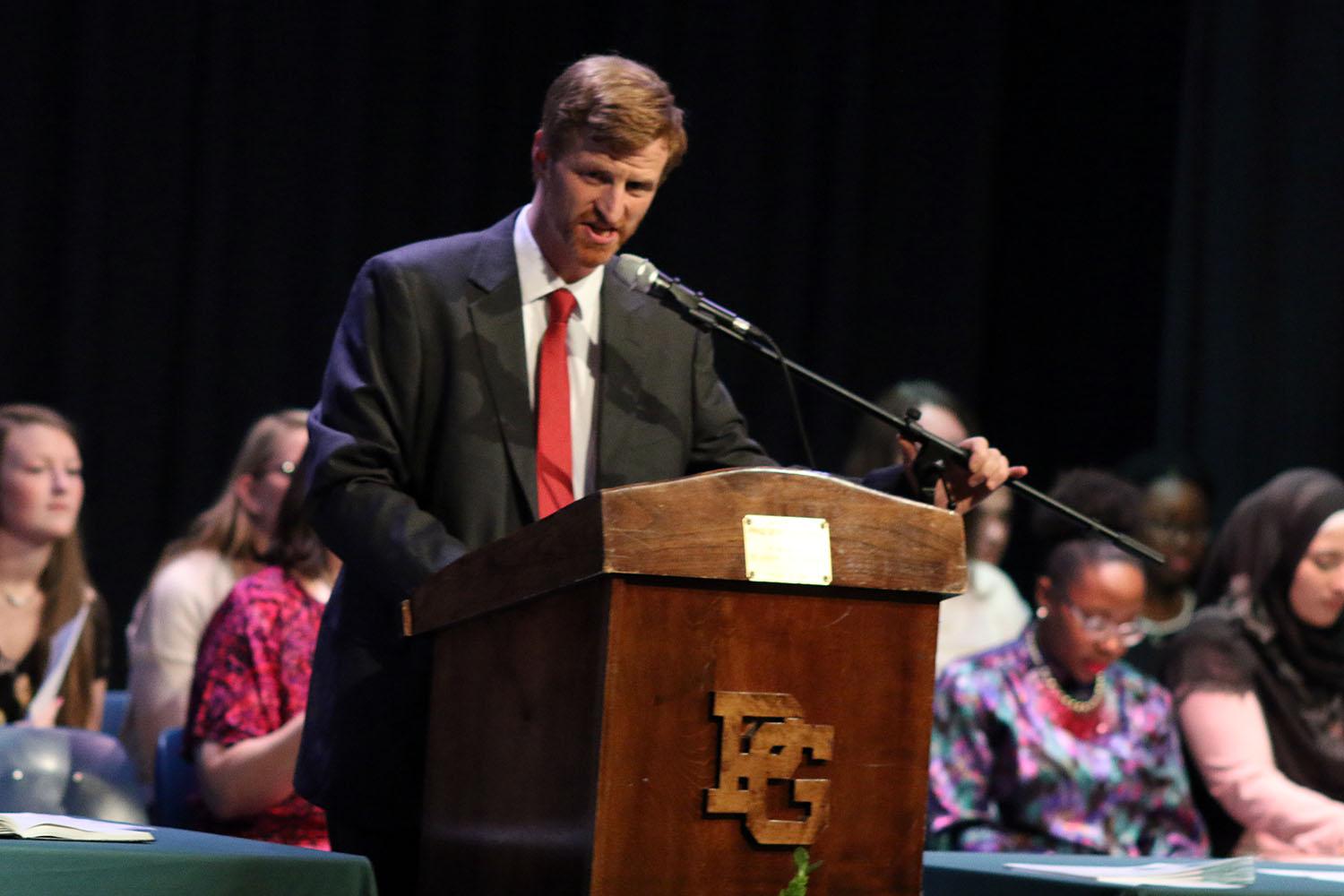 Principal Mike Nelson Accepts New Position at Department of Education
By Emily Hannuksela
After working as co-principal for the 2014 school year, and principal since 2015, Mike Nelson will be departing the high school for a new job at the Department of Education on March 24, 2021.
With his many years of leadership and devotion to the high school, Nelson will continue to work to serve his community in the Office of School Quality at the DOE.
"Being your principal is one of the best things I've done," Nelson said at a faculty and staff meeting last week. "I am proud of what you do every day of my life."
Nelson has worked hard to run the high school smoothly and will be missed in the Prince George County community by fellow staff members.
Veteran history teacher Cynthia Hasley remembers working with Nelson when he was in the classroom as a young teacher.
"Mike Nelson and I started teaching at Prince George High School about the same time, in the same department a quarter of a century ago," Hasley said. "We both came from William and Mary, steeped in history and integrity. He is a man of family and faith who always had his students' best interest at heart.  As new teachers, there were days that were overwhelming, but he always had a smile to offer…and that twinkle in his eyes. I truly enjoyed working with him as a fellow teacher. As Mr. Nelson moved on to administration, he continued to be supportive and positive… that is so important. I wish him and his family only the very best in life. He is irreplaceable and will be greatly missed."
"While I couldn't be happier for Mr. Nelson to move into such a prestigious new role where he will positively impact schools around the Commonwealth, I will deeply miss his leadership and believe that his departure leaves a giant hole in the heart of PGHS," English 12 teacher Beth Andersen said.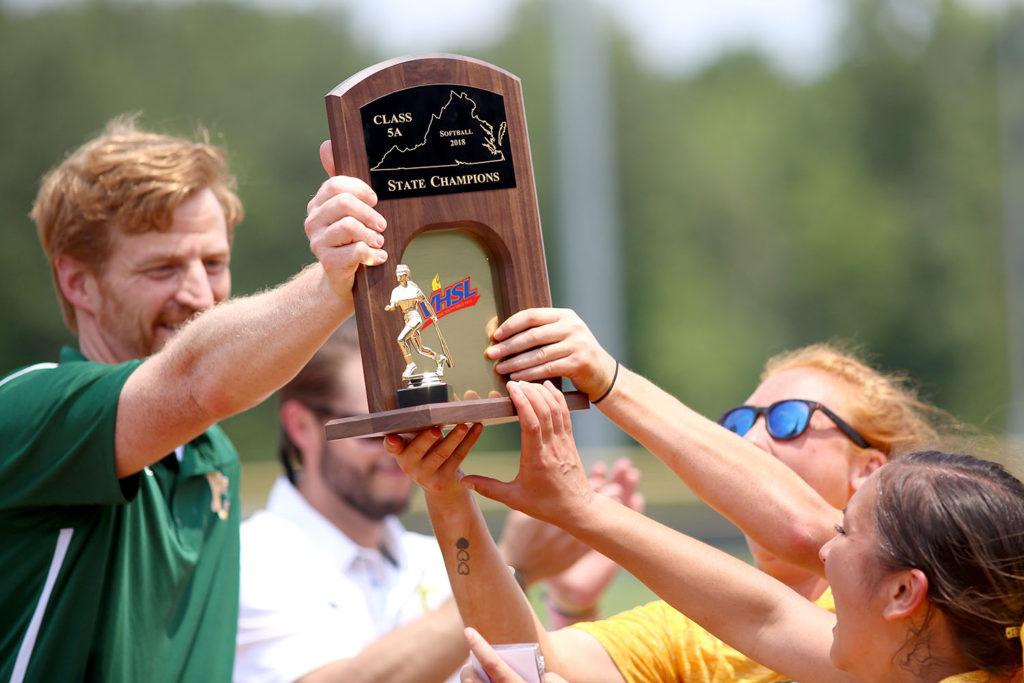 Having held many positions in Prince George County Schools, including teacher, SGA sponsor, assistant principal, and principal, Nelson developed many skills that will help him in his new career.
"[Nelson] has always been driven by and made decisions based on doing what is best for students and teachers," Andersen said. "Knowing his heart of commitment and his long history at PGHS, I always trusted him to do what was right for our school."
His time in the history department at the high school left an impression on many of his colleagues in A-wing.
"As a popular history instructor, he was respected for his vast knowledge, high expectations and his dry sense of humor," history teacher Vicki Hale said. "As an assistant administrator, he was supportive of the students, faculty and staff under his supervision and was always willing to share constructive solutions to the many educational challenges they faced."
"As principal he brought all of his skills to bear, particularly during the many upheavals of the last twelve months, maintaining a steadying and positive influence," history teacher Sabine Labossiere said. "He has always had an open-door policy, a willingness to listen and gives thoughtful consideration to suggestions or concerns."
Veteran German teacher Susan Brafford has seen Nelson work in many roles during his tenure at the high school.
"Mr. Nelson is a true Prince George Royal," Brafford said. "As a teacher, his priority was providing students with a quality education which met students where they were and challenged them to do more. As the advisor of the PGHS Student Government Association, he fostered an environment through which students could learn and become confident in their abilities to lead their peers. As an assistant principal and ultimately as principal of PGHS, Mr. Nelson never lost his belief that the classroom is the heart of the school and his responsibility was to provide a framework, be a resource, and a support, so that his teachers could focus on providing the quality education for which PGHS has always been known. In short, Mr. Nelson's entire career has been about advocating for and putting the students of PGHS first." 
During his time at the high school, Nelson taught many lessons to both students and fellow staff members.
"He has shown me that you should never forget your roots as an educator and if mistakes are made along the way, acknowledge them and work hard on a solution," said biology teacher Keandra Smith. "I appreciate him for being a listening ear when times were hard or I needed guidance during these past few years."
"Every time I saw him, he would thank me for my hard work and dedication, which meant a lot to me," math teacher Katherine Simulcik said. "It was a wonderful thing that he was an actual teacher before becoming a principal, so he knew exactly what happened in the classrooms and what needed to be done."
One of Nelson's chief roles, which some may consider one of the most difficult ones he had to fill during this hybrid model of learning, is constructing the master schedule. While doing that, he worked side by side with guidance for countless hours.
"To me, Mr. Nelson epitomizes what Prince George High School stands for…..care and concern for both staff and students," guidance counselor Tara Seely said. "I will miss his smile and warm welcome. I always knew that his door was open, and he was willing to assist in any situation. As a school counselor, it is so important to have a good working relationship with the administration and Mr. Nelson consistently tried to create solutions that would impact the students in the most meaningful way. His absence will certainly be felt at PGHS."
English teacher Kindall Stevenson and Aline Geryes were both students at Prince George High School when Nelson was a history teacher.
"I met Mr. Nelson when I was 17 years old," Stevenson said. "Since then, he has grown to be an incredible administrator who fiercely supports his faculty and staff. I switched careers to become a teacher because he suggested it. I would not have taken that leap of faith with any other principal. I've never loved a job more, and I owe that to him."
"For me, PGHS and Mike Nelson have become synonymous. Like several other staff members, I do not know PGHS without Mr. Nelson's presence. Not only did I have him when I was a student in the building, but he conducted the interview process which led me to becoming a teacher here. He means a great deal to a lot of people, me included," Geryes said. "If not for Mr. Nelson, I would never have had the opportunity to pursue teaching in the path that I did. I left the field of healthcare after 10 years and started working in the office as Mr. Nelson's administrative assistant. I'll never forget when he called to offer me the interview. I did not realize it was the same Mike Nelson who taught me history years ago, but it was. He recognized my first name immediately and waited for me to make the connection. Teachers really don't forget their students… Mr. Nelson gave me a shot in the classroom. He has directly impacted my career path and my desire to educate high school students because he led by example. Mr. Nelson is one of the most compassionate educators I've met; he truly impacts people around him with his thoughtful actions and encouraging words."
In his seven plus years as a principal he has worked with many assistant principals. Throughout that time he has been a mentor to those staff members.
"It has been an honor and privilege to have the chance to work with Mr. Nelson," Assistant Principal Matthew Mcallister said. "He has been a mentor to many, myself included. I wish I had the opportunity to learn more because he has so much to share. He has and always will be a true Royal."
Nelson will continue to grow at the Department of Education, though his roots will always be green and gold.
"As Mr. Nelson moves to the state level, PGHS is losing a caring and determined advocate who always put the needs of his students and his teachers above everything else," Brafford said. "VDOE is gaining the best Royal Prince George County Schools has to offer."
"He stood up for us (teachers and students) and tried to help us in any way possible," Simulcik said. "This year is rough for us, and he stood up for what was right and took his job seriously. He would admit if he made a mistake and didn't blame others."
"Mr. Nelson truly embodies what it means to be a Royal and will always be one in our eyes," Andersen said.
About Author