Friends and family gathered in support of senior Jaelin Montgomery's decision to commit to James Madison University on Wednesday, December 16.
Montgomery had a couple of options for schools to attend, but when it came to the end of the recruiting process, he felt James Madison University was a home away from home.
"I had a couple of schools towards the end of the recruiting process, but I leaned more towards JMU, although my first choice was Villanova University," Montgomery said. "The coaches and I at JMU have already started a good bond. The university has a family atmosphere."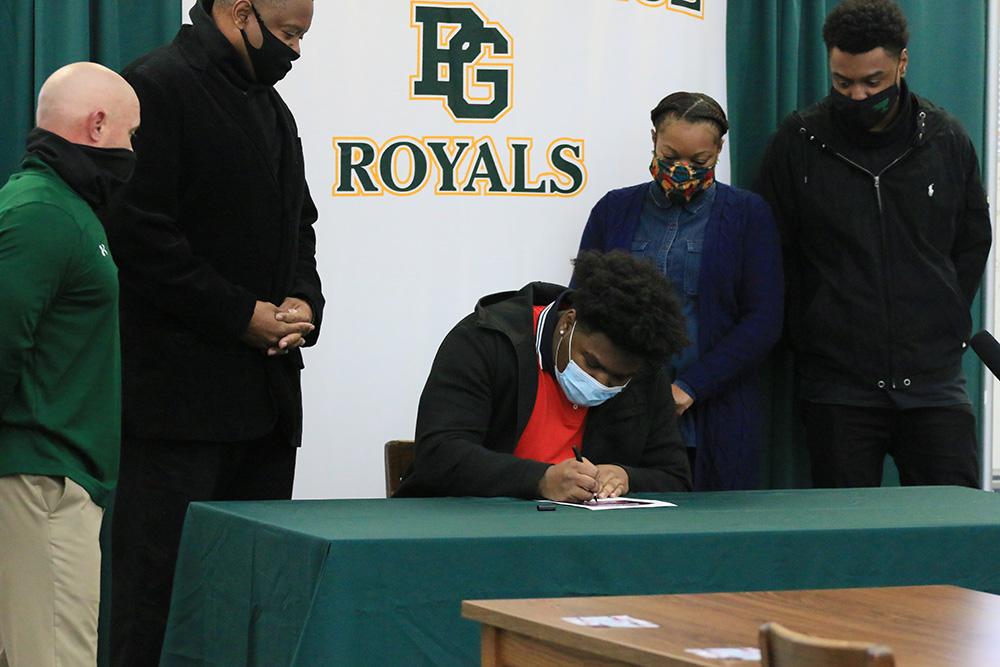 As many peers and teachers could agree, Montgomery is a dedicated student and football player. Montgomery has the personality that makes him someone everyone wants to be around, especially on bad days.
"I think my favorite memory I have with Montgomery is football related. I remember how we always joked around even if things were down at practice," teammate Isaiah Polingo said. "If we were upset about a situation, we could laugh it off and move on. He's a chill dude, but once you get to know him he's as goofy as anyone else and would do anything for you."
His coach was also very encouraging of Montgomery.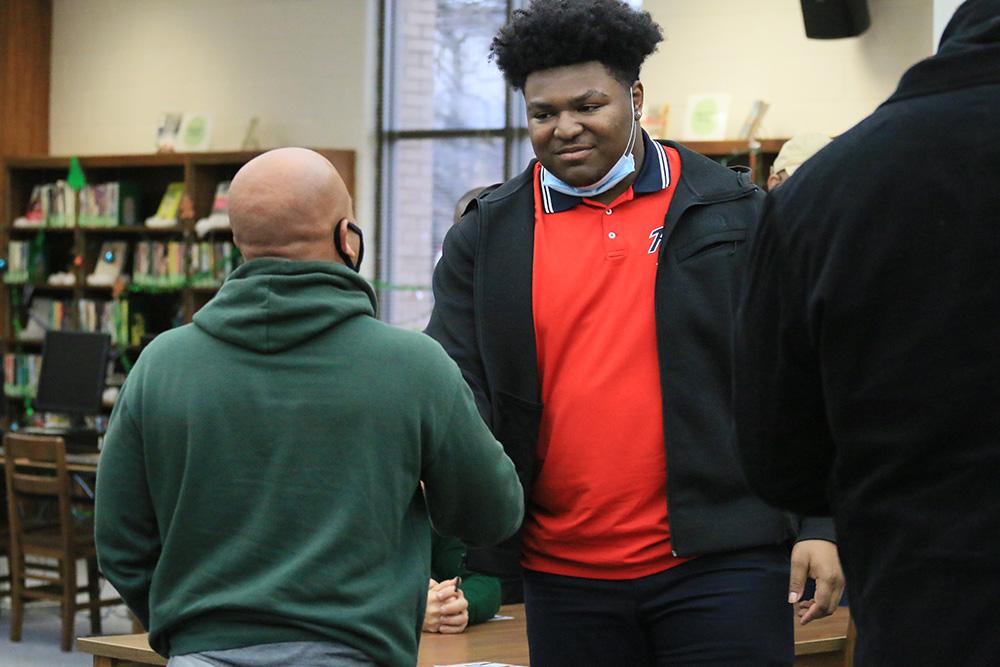 "Jaelin is probably one of the strongest players we've ever had in the program," varsity assistant football coach Justin Keeler said. "He's incredibly strong. The most important thing is he's a good person and a good student. He's a joy to be around. When you have a bunch of football players like him it makes it fun to come to practice. He's a dedicated player, he does the right things, and he comes to workouts. This signing day is a credit to his commitment that he's made to football these past three years."
Although he is trading his home colors of green and gold for JMU's purple and gold, he continues to guide his teammates through his impactful advice.
"Work hard, keep your head up, don't slack, keep working, and stay positive," Montgomery said. "Keep working because you never know when your opportunity will come up."
Hard work and dedication is important to him and doesn't go unnoticed by his coaches and teammates. Montgomery's team all agree his opportunity with JMU is well deserved.
"I'm happy for him to be signing at JMU," Polingo said. "It's a great opportunity to be at a high level and have exposure and compete for national championships on a yearly basis which he deserves."
Even though Montgomery is taking a new step in his life, he will keep his coach's words with him through his years at college.
"I'll miss being at home with my teammates and coaches that I grew up with and the atmosphere of the home games," Montgomery said. "My coach has taught me to not be selfish and to be humble especially during the recruiting process."
Though Montgomery will miss Prince George, he's ready for the new experiences and opportunities JMU has to offer for him.
"I look forward to playing football because that's my dream and I want football to be a profession," Montgomery said. "I feel JMU is the best school to offer that, and they already feel like a second home to me."