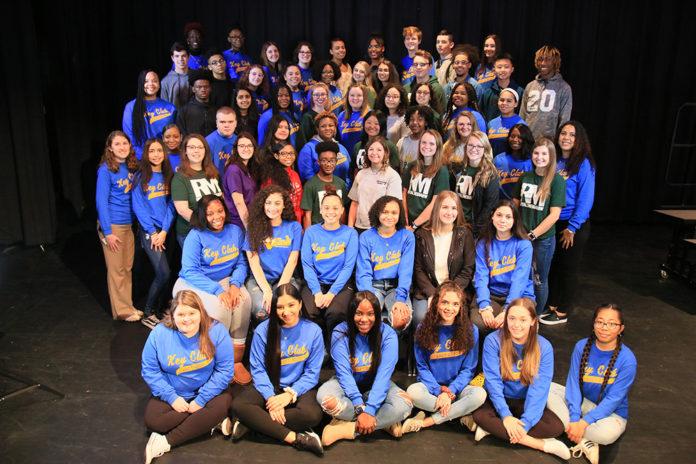 In previous years, Key Club members have gathered together for many community service projects to improve Prince George. This year, however, the club has had to adapt to the ever-changing COVID-19 environment.
Key Club strives to help their members become better leaders through service. Their main goal is to perform acts of service to the community. To do this, many volunteer opportunities are provided. In the past, Megan Cashing, the sponsor of Key Club, oversaw these events.
"We have adopted a section of Route 156, from Clements to Circle D, that we clean about twice a year," Cashing said. "We have also helped collect items for people in need and visited food pantries in the past. We hope to do some of this again this year."
To be able to run these events, Key Club must also be able to hold fundraisers, but there are challenges to overcome before anything can be sold.
"We also will have to come up with some new ideas for fundraisers, as we usually sell candy, and we don't want to encourage passing of materials and money between students," Cashing said. "Ms. Brown and I will still be sponsoring the club, but more than ever Key Club will be student-led and organized."
Meetings this year will also have to be adjusted to fit the new recommended guidelines of social distancing.
"We have a Google Classroom set up to keep our members informed, as well as an Instagram account," Cashing said. "We'll be having virtual meetings through Google Meet and get together in person when we can space out safely."
Collecting dues from members this year will also be a hardship that Key Club has to overcome.
"We have really just started, but it will be challenging collecting dues from members this year. We will still have to send our dues into the district and international offices for Key Club, and with many students not being in person, they can't just pop by our rooms like they used to do," Cashing said.
In order to run a club, a president, vice president, secretary, and publicist must be chosen. The normal procedure for electing these positions could not be used, but Cashing had a way to overcome the challenge.
"We did not hold elections in the spring, but I reached out to the members from last year when we got back in the fall, and had 4 students interested in being officers," Cashing said. "We kept the officer application open for a few weeks, and those 4 that responded became our officers."
One of these officers is senior Kassidy Reed, the vice president of Key Club. Her goal for this year focuses on student involvement.
"I hope to make Key Club a bigger club along with getting more students involved in community service because they truly enjoy it compared to students feeling that they are required to," Reed said.
As such a prominent member of the club, Reed works to uphold the goal of the club.
"As a vice president of the club, I help make activities for members to participate in and help organize functions," Reed said. "Key Club is about giving back to the community and making PGHS more fun and enjoyable."
The club is very community-driven and helps others through hard work.
"Key Club helps to make sure that the community stays clean and provides volunteer opportunities in the food drives," Reed said.
Cashing is impressed with the actions of the student body and the officers of Key Club as they have been very interested in making a difference.
"I'm proud that our students wanted to do something this year, and that our officers have had so much initiative in helping out the community, especially during this time," Cashing said.