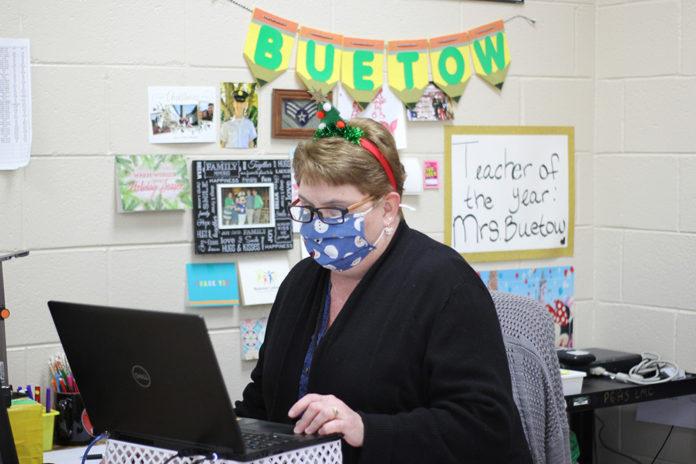 As the bell rings, students throughout the high school join a new Google Meet while remaining in their first period.
Starting on December 7th, club activities periods resumed, but with a slight twist. This year, all club meetings are held virtually through a Google Meet. The time frame is the same as last year, but now students never have to leave the classroom.
"[Virtual activity period] is better than nothing, but it will make planning and implementing activities more challenging," said Jan Buetow, Student Ambassadors club sponsor.
There are some challenges that being virtual has caused across all clubs.
"I would have appreciated cameras being on during the meeting," Buetow said. "It's hard to meet new people if you can't see and hear them."
Although there are challenges, the students and club sponsors have worked hard towards ensuring all meetings go smoothly.
"I appreciated everyone's willingness to participate virtually," Buetow said. "Everyone was willing to share during the icebreaker, and everyone seemed enthusiastic."
With each club assigned four meeting days throughout the year, this is the first time many clubs have been able to meet with each other.
"I feel that the first meeting was successful," Buetow said. "I was able to introduce myself and our club, speak about what our club hopes to accomplish this year, lay out goals for the new year, and speak to those interested in becoming officers."
Each club is put into a category: green, gold, white, or blue. Each category also has designated meeting periods. The bell schedule is also changed to accommodate these meetings into the normal school day. Full list below.
Bell Schedule:
1st: 7:50 – 8:45 Activity: 8:50 – 9:12 2nd/3rd: 9:22 – 10:30 Resume Normal Bell Schedule
Green Clubs- (Meeting Days- 12/7, 2/8, 3/8, 4/19)
4H
Art Club
Beta Club
JROTC Leadership
Cultural Awareness
DECA
Key Club
Model UN Club
GSA
Sign Language
Guitar
Gold Clubs- (Meeting Days- 12/14, 2/15, 3/15, 4/26)
Chess Club
Ecology Club
Interact Club
Japanese Club
NHS
Royals Media
Skills USA
Student-to-Student (Student Ambassadors)
Special Olympics Buddies
Forensics
White Clubs- (Meeting Days- 1/4, 2/22, 3/22, 5/3)
FBLA
French Club
Garden Club
German Club
Junior Civitan
Mu Alpha Theta
NAHS
Ruri-Teens
SADD
Spanish Club
Tri-M
JROTC Battalion
Blue Clubs- (Meeting Days- 1/11, 3/1, 3/29, 5/10)
BuildOn
Chemistry Club
FCA
PAAS
Red Cross
Stream Team
TSA
Young Authors
Young Educators
Political Science