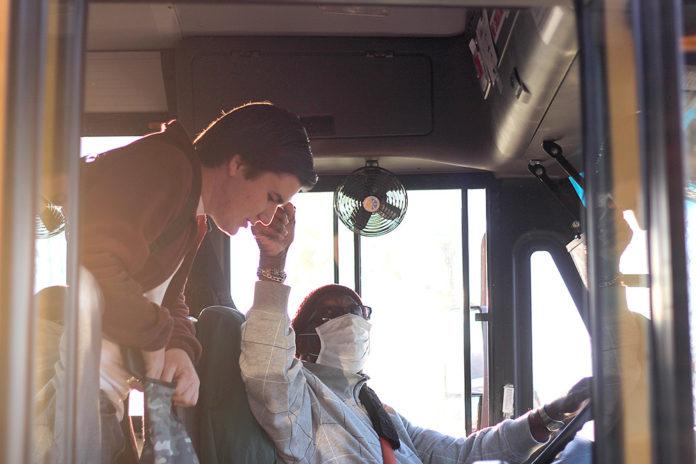 The smell of strong cleaners can be expected in the high school bus loop on any weekday as bus drivers clean their busses.
Just as schools have had to implicate changes, the transportation to those schools have as well. No longer will students see a bus full of students going down the road. Instead, they will see one only a quarter of the way full.
"On a 65 passenger bus, we allow eleven students," Director of Transportation Dustin Nase said. "On a 77 passenger bus, we allow thirteen students. We normally carry on average 50 students a bus on a normal year."
With bus capacity being so drastically reduced, some students are having to wait for an available spot.
"Each school has their master transportation waitlist," Nase said. "The schools know the needs of their students and as seats become available, we contact the school to send us students from their list. We can route students that fall in line with the routes we already are running. This allows for efficiency and streamline of all pickup times to stay on schedule."
Valerie Harris, a bus driver for five years, is a floater. This means that every day is a new challenge for her to overcome, as every day her route is different.
"Monday [the 9th], I covered for a driver who's runs are on the northern side of PG," Harris said. "Tuesday [the 10th], I covered a driver's run on the southside of PG. Wednesday [the 11th], I covered a driver's runs in Branchester Lakes subdivision."
Drivers also have new responsibilities on their plate.
"After each run, I have to spray my bus down with a disinfectant spray that is given to us, and the same after my elementary run," Ida Butler said. "This has to be done in the mornings and afternoons."
Along with these cleanings, other things are being done to prevent the spread of COVID-19.
"Masks are strongly recommended and encouraged but at this time they are not mandatory," Harris said. "If a student gets on any of the buses I am running for without a mask, I do ask them if they need one and give them a disposable mask. As students get off the buses, we are taking their temperature to ensure they do not have a fever."
With all of these changes being implemented, it is important to have a strong team of people working in the background to make sure everything runs correctly.
"I feel like things are running smoothly," Butler said. "Mr. Nase has taken the Transportation team and brought us to a new level, he empowers us to do the right thing along with supporting us as a team and individually. The team in the office is also a great support system for us bus drivers, they really go the extra mile with everything they do and help us with getting our routes straight."
Along with the numbers and facts, there is also an empathetic connection to the students for Nase.
"My wife works at Walton and my daughter is in 4th grade there," Nase said. "I treat each student as if they were my own. I want my daughter to have the opportunity to learn and I want to be able to provide that opportunity for other students as well. This community and the children are important to me and I want the best for all of them. We will continue to work with leadership to provide every opportunity we can. It will not be easy but we will continue to push forward."