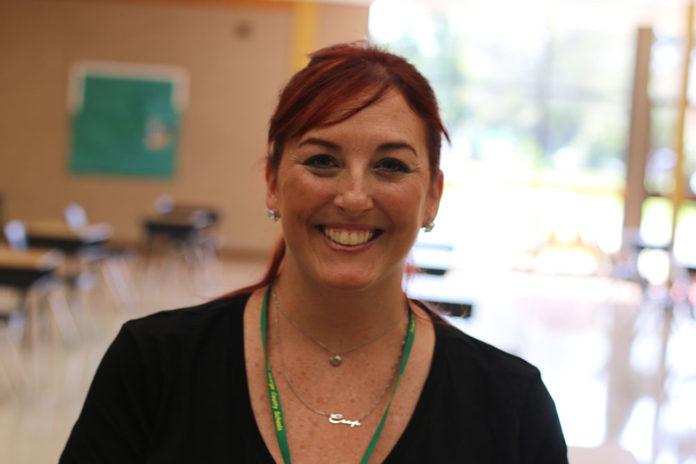 The morning of September 7th was a day full of anticipation for new librarian April Young, as she dropped off her four year-old son at daycare, and prepared for a task of temperature checks in B-Wing. 
"I'm transitioning from a middle school classroom to a high school library. When I heard about the library position opening at PGHS I jumped at the opportunity," Young said.
Longwood University graduate, and former eighth grade teacher, Young joins the high school after 15 years as an English teacher and former English department chairperson.
"As a classroom teacher, I found that I had a knack for suggesting book titles to my students and engaging reluctant readers in book series and graphic novels that they wouldn't have discovered on their own. I knew I could impact a greater student population from the library instead of just my classroom so I decided to make the switch," Young said.
The coronavirus has impacted educators in a multitude of ways. Young found that as a teacher, due to schools closing so abruptly, it became difficult to cater to her students.
"The end of the last school year was a challenge since I was still a classroom teacher and school shut down so quickly that all teachers were scrambling to figure how to best meet their students' needs," Young said.
This year Young is excited to collaborate with virtual and on campus students and teachers to use the library at its fullest potential.
"Ms. Heath and I are excited to make books accessible for our virtual learners and have started curbside pick up for our PGHS students who want to still check out books during the pandemic," Young said.
"It's a common misconception that school librarian's only sit behind the circulation desk to check out materials. We are always working to plan instruction, collaborate with our staff, promote literacy, and support our students both in the school building and beyond," Young said.
Young's biggest challenge is transitioning from a middle school teacher to her new position, but she has high hopes for the 2020-2021 school year.
"I hope that we are all able to stay healthy so we can stay in school and hopefully welcome our virtual learners back to campus. I'm also hoping that our students will begin utilizing curbside library book checkout," Young said.