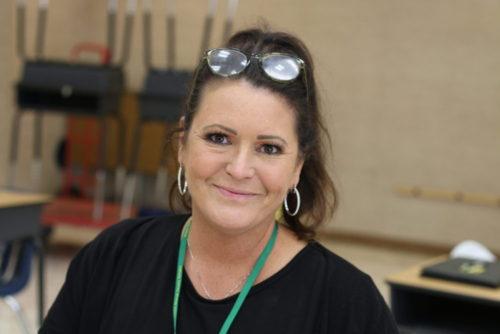 Commuting from her farm in Dinwiddie every morning, 12th grade English teacher Denneta Miskimen arrives at Prince George High School ready to teach new faces.
After graduating from Old Dominion University with degrees in British Literature, English, Special Education, and administration and supervision, Miskimen travelled to many different school systems in her 22 years of teaching.
"I started out in Norfolk, then I moved to Chesapeake. I left Chesapeake and went to Chesterfield. I spent 15 years there, then I went with my superintendent to Petersburg to help [that school system]. Then, I finally arrived at Prince George," Miskimen said.
After leaving Petersburg, Miskimen hoped to focus on her agritourism business, The Red Barn Farm, but the pandemic had other plans in store for her. 
"My goal was that we would have so much business with field trips this year that I wouldn't go back to school necessarily this year, but Covid put a damper on that because there are no field trips," Miskimen said.
As a collaborative educator, she works with another teacher in the classroom in order to share expertise and promote communication. Her desire to collaborate is rooted from her business.
"I love people. Our business had 700 people come through our barn during Labor Day weekend, and my husband said that there were so many people. I told him I loved this," Miskimen said. "When Mr. Nelson told me he needed me to help someone in the collaborative British Literature class, not only was I excited about British Literature, but I was excited to work with people."
With over two decades of experience under her belt, Miskimen has clear objectives for her classroom.
"My goal is to step outside of the box. I think as educators we have confined ourselves to boxes and we think the confinement we've been in is the way education should look. Education is taking a totally different path," Miskimen said.
The coronavirus pandemic has caused many difficulties for both students and teachers, but Miskimen keeps a positive outlook.
"One of the challenges is not having all the kids here. I miss that interaction," Miskimen said. "I've met a lot of great people. Prince George definitely has a plan and they're sticking by it. They have outlined exactly how this year is going to look. Sometimes I feel like we're building the plane while we're flying it, but we're doing it together, so we all don't feel like we're on an island."
Prince George's sense of community is what drew Miskimen to the high school.
"I feel like for the first time I'm part of a family. I feel like I'm at home," Miskimen said.