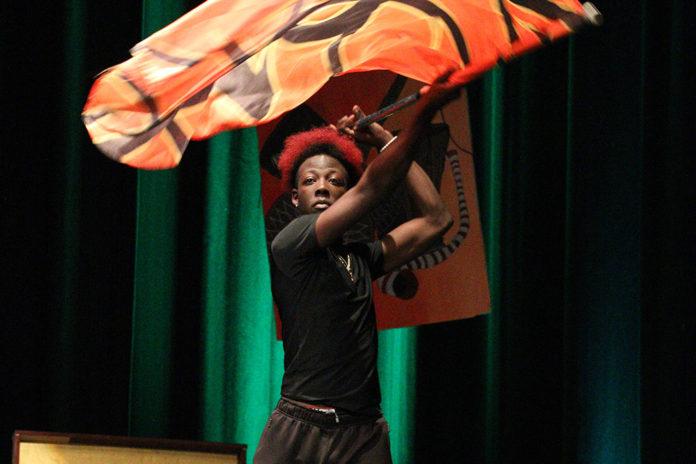 Standing back stage, surrounded by all of the other acts, Junior Xavier Jackson warms up his voice before it is his turn to take the stage. Jackson prepares to sing "All of Me" by John Legend, he is accompanied by Senior Michael Eady on the piano.
4-H held their annual Talent Show on Friday, Feb. 28. The show featured high school students. Because students had to audition for the Talent Show in advance, many students who participated spent hours working to perfect their act.
"We ran through it once or twice. Probably all together, throughout the week, probably two [hours of practice]," Jackson said, "It was last minute, because I did not actually know about the talent show until two or three days before.
The show featured many different types of acts over the course of the night. Students who participated in the show were judged and placed in respective categories. Awards were presented to students by the Master of Ceremonies Sterling Mclymont and Director Hermon Maclin. At the end of the night participants were awarded for vocal, rap, dance, combination and drama.
One of the different types of acts shown was senior Octavyous Hodge's display, a color guard performance. Hodge learned color guard through the school then added a popular song to his routine.
"My favorite part was hearing everyone else, whether it was comedy, or singing, one dude was beat-boxing. I just liked that," Jackson said.
Participants were able to perform their acts solo or as a group. Some, like sophomore Rebecca Taylor and sophomore Danisha Jones, decided to join their acts and perform together.
"It was really good [being able to perform with my friend], because we have performed together before," Jones said.
While some acts had known each other for years beforehand, others did not. Jackson and Eady had only met for the first time a few weeks before the talent show. Through being active in other school functions they were able to put together a set in time to be a participant in the 4-H Talent Show.
"[Michael and I] met through the Black History Program and I asked him during practice if he wanted to do something for the talent show. So we had to come together and find a song he already knew how to play and I knew," Jackson said.
The welcoming atmosphere of the backstage area was a comfort to some, like Jones. While students waited for their time on the stage they were all backstage watching the other performers. The acts worked together to combat stage fright.
"The atmosphere was nice, everyone was trying to hype each other up. If you were nervous it was like, 'Okay we are just going to help you through that," Jones said.
The annual 4-H Talent Show allows students to have a place to showcase their talents in front of their peers. Hodge expressed the importance of these events as a creative outlet for students with different types of talents.
"Some kids do not know how to express themselves, so the 4-H Talent Show is another chance for kids to come out and show their hidden talents," Hodge said.
For more photos click here: https://trnwired.smugmug.com/Events/4-H-Talent-Show-2020/