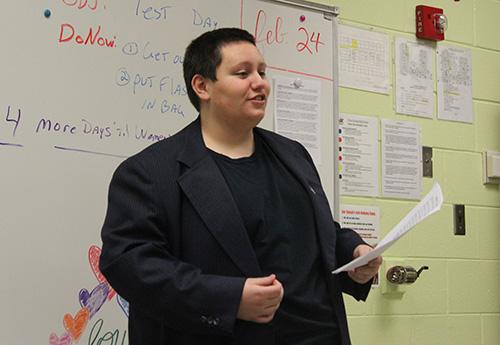 On Monday, February 24, the newly renewed Political Science Club held their first Democratic caucus.
During the meeting, there were two of the clubs officials who took on the roles of two major democratic candidates. Senior Elisha Henderson assumed the role of Senator Elizabeth Warren, while sophomore Michael Mullenix took on the role of front runner Bernie Sanders.
"I chose Bernie Sanders to be my candidate because of his policies on healthcare, marijuana, and the climate crisis," Mullenix said.
A caucus is defined as, " a meeting of the people who run a political party to plan activities and to decide which people the party will support in an election." The states of Iowa and New Hampshire key to a candidates success and are first in the primaries. In the last 10 presidential elections, Democrats has won 6/10 times, yet in the states history, they were know for being more Conservative.
"Republicans don't normally caucus so it would be a suprise to see one," Henderson said. "In this election it is most likely not going to happen because President Trump is projected to win the Republican nomination for president."
Issues such as marijuana, abortion, and the middle class were brought up and mainly discussed during the caucus. It was the responsibility of the student to do research in order to properly answer how their candidate would answer.
"Warren is very pro-middle class," Henderson said. "She votes and creates legislation with those people in mind."
After an hour and fifteen minutes, the result of the caucus was a tie. In the future, the Political Science Club hopes to have more people in attendance as well as more caucuses. As for the 2020 Presidential Election, there needs to be a greater understanding of the core issues that everyone chooses to fight over.
"I hope the discussion continues and there's less apathy and more participation in the election system," club sponsor Cynthia Hasley said. "That's where our power is as we the people."