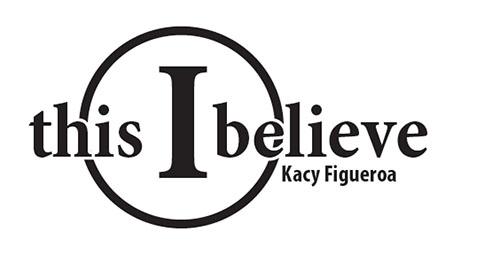 by Kacy Figueroa
This I believe: that music can be powerful. Music has been around for many years and it has only developed into something greater. Since it was introduced, many different genres were preferred by different kinds of people just because of their taste in it and what it does to them.
From classical times to the modern world; music has impacted so many lives in a good way. Not to mention, many different cultures also use music to get their spirits up, and worship. Furthermore, it is scientifically proven that music can relax the mind and help reduce stress, anxiety, and discomfort. 
In our world today, the music industry has changed. Today, genres like hip hop, and rap, are one of the most popular music genres that are listened to because of how well it is produced. Some people listen to music because of the certain artist who produced it, while others listen to it because of how relatable and powerful it can be. Of course, many music artists have come and gone, but it still did not change the moods of the people today.
With their music still produced, fans can still listen to the work that artists have done and could only wish for more. Especially with well known artists like Michael Jackson, XXXTentacion, JuiceWorld, and many more; they are still worshiped and praised for their work for how much of an impact they were to the world. 
Personally, music has been a huge part of my life. When my parents divorced, I did not have a lot of people to turn to because they would not know how I felt in the process and what not. Same goes with being a military child. With the constant moving and new homes, you can only handle so much to the point where you can not take it anymore.
But it is not up to you because of the life that you were blessed with. Therefore, with music, I have been able to get through personal problems and I have actually thought about pursuing music in the future. With that being said, music has done so much for the world that it could help oneself with anything.