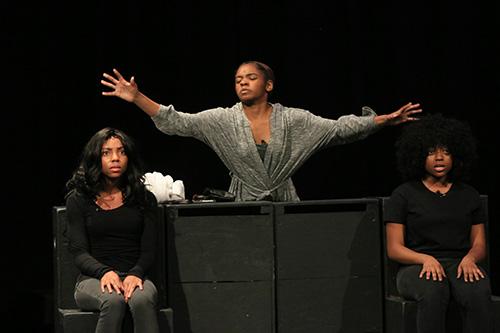 Standing on the stage under the bright lights sophomore Tailor Hart is ready to begin the last dress rehearsal before opening night.
The PG Players and N.B. Clements present the BOLD (Bring on Lasting Diversity) Series first show, The Colored Museum By George C. Wolfe. The BOLD Series was created to display the immense diversity and culture in Prince George County.
As the lights rise Hart is the first one on stage. She is ready to bring Aunt Ethel's vibrant character to the stage.
"Aunt Ethel is shown cooking… She is an old soul, old felt… She is vibrant as well, she knows the hardships that the slaves had gone through. So she is saying 'This is what we are, this is what we have become now because of what we have gone through'. She takes different pieces of us and our culture, and puts it together to make a perfect batch," Hart said.
With many hours put into rehearsal the cast is excited to finally be able to perform for audiences. The cast and crew held a showing for junior high students and high school students the day before their opening night. Teachers brought their classes to the auditorium to get a sneak peak of the show.
Sophomore Demond Middleton shared his excitement for the experience to be able to play multiple roles in the show.
"I am most excited for [my] 30 year old man part; like I get to scream, that is me. And with the other part, I just change," Middleton said.
This powerful play is being shown at the high school Thursday January 23 through Saturday January 25, 2020 at 7:30 P.M..
"I hope the audience understands that there is more to African American culture than what is put out; there is more to what we felt," Hart said.