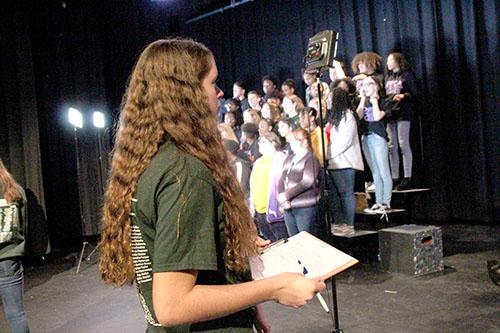 Lights are shining bright in students' faces as Royals Media staff members coordinate student's places on the risers. The heat of the stage lights burn down and only increases the pressure of the chaos increasing around them.

On Wednesday, January 15, the Peerage Yearbook Staff along with other Royals Media members hosted club picture day for all clubs and organizations. The 15th was full of planning, stress, bonding, and fun throughout all of the events for everyone involved.

"All of the Royals Media staff is working really hard and everyone is stressed and frustrated while trying to make sure it's presentable, but we're doing our best to make it fun," PGTV junior Brooke Damron said.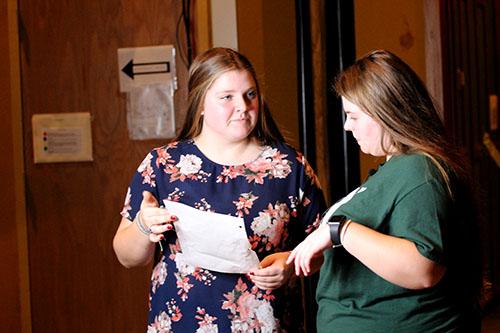 All of the teams worked with their teachers, Chris Waugaman and Aline Geryes, to coordinate tasks and assignments to make sure that Club Picture Day was executed as cleanly as possible. Everyone had an important role in the event to keep up with, whether it was planning the event, or being in it.

"It can sometimes be stressful because of the pressure of everything going on around you, and everything being so fast and making sure these students listen and work with you," first year yearbook staff member Giuliana Freeman said.

Many staff members had to find ways to look around the stress and get things done as soon as possible so they can move to the next club that's waiting in line to get their picture taken as well. Even when everything got tense and chaotic, the staff remained as calm and professional as possible. They knew throughout planning that the stress was going to come, but they also knew that they were going to grow from the stress.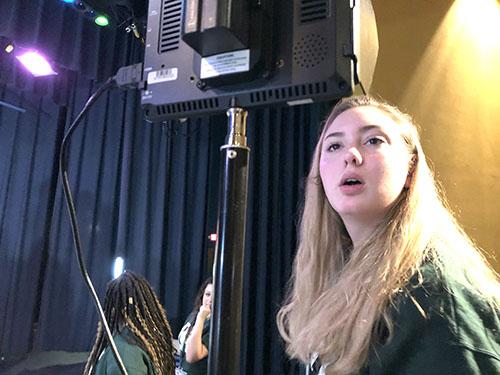 "We started talking about this a month ago, while still handling September through December spread coverage. It's all been a matter of time management and coordination for all of us," senior yearbook Editor-in-Chief Madison Bailey said.

Even though they were planning this, the yearbook team was also handling their assignments that were due at different times. The pressure was constant for them, but they were determined to prove that they could handle it. They worked together as a team to finish even the smallest details.

"Today was definitely a chance to get close to the first year students, it's really fun working with the people around you to reach the same goal and I'm sure this is a good learning experience from them," Bailey said.

Staff members used Wednesday as an opportunity to bond in order to look past the chaos and have as much fun as possible. They all had one goal and used every way possible in order to meet it together as a team. In the end 62 clubs and organizations were photographed and uploaded in just one day to be ready to put in the 2020 yearbook.