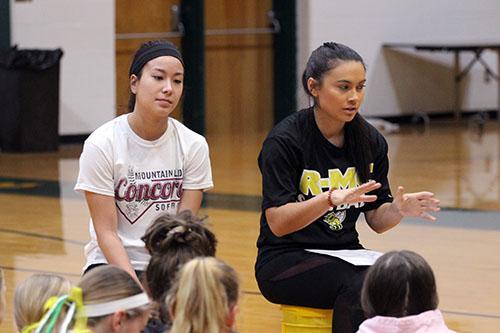 Working with young girls on their pitching and batting, alumnae Casey Abernethy and Laura Thompson reflect on their years softball experience at the girls softball camp.
On Saturday, January 11th, these two girls returned to their high school to teach some softball techniques to nine to thirteen year olds. Having played her last game in June, Abernethy looks as this event as a look into her future in softball.
"It's pretty surreal to just have graduated college, played my last softball game ever," Abernethy said. "This is the next step. This is what life is going to look like for me and softball for the rest of my life, so being in a coach role is pretty cool."
Casey Abernethy

Laura Thompson

Laura Thompson

Casey Abernethy

Laura Thompson

Campers
Both Thompson and Abernethy agree that being able to work with the girls brought back memories of themselves playing softball at that age.
"We were the girls sitting there in front of all these other coaches, and trying to get as much knowledge as we can about the game," Thompson said.
These two, however, were not the only alumni involved in this camp. 2015 graduate, Matthew Burgess works as the sports tourism coordinator, meaning he is the one who arranged to have Abernethy and Thompson work with the players.
"I basically just contacted the players, and made sure the building was available," Burgess said. "Then, I just kind of oversaw the event."
The camp overall was an exciting event for these three, getting to work with eager young athletes. Thompson looks forward to where the softball program is going as these girls get older.
"[I enjoyed] working with the younger girls… because they have a lot of talent coming up," Thompson said. "So, to see where the program is going to be in a couple years, I think it's definitely good."