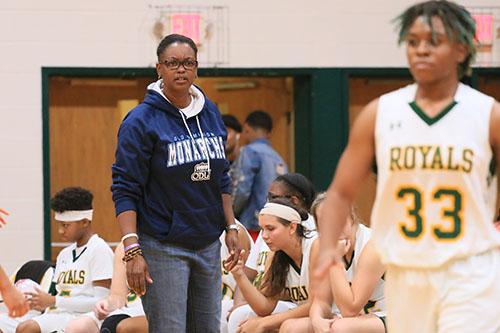 A new coach may be a big adjustment for the players, but for the varsity girls basketball team, the new coach is a familiar face. Moving up from junior varsity coach to now head varsity coach, Kenya Grissett has a bigger challenge at hand. 
Coming off of a 6-13 season last year, Grissett looks to improve on that and have success for her Lady Royals.
"I hope to improve on last season's record and get deeper in the playoffs," Grissett said. "Also to help the girls get better at different aspects of their game and just to try to improve the overall record and how deep we get into regional play."
With losing five seniors on last year's team, the Royals will have to have some new faces to step up and fill new shoes.
Something the players say that Grissett brings to the table is that she is always pushing them hard every day at practice. There is never a day where the girls come in to practice and do not get pushed hard.
"Our coach has themes for our practices that helps motivate us throughout the week and she also has it planned out to the detail," junior Rachael Blumenschine said. "She always makes sure we are working and not standing around."
Grissett did not get offered the job until a week before tryouts which allowed for little time to prepare for the season. This restricted offseason leagues that the team would have been allowed to enter if they had a coach.
"It was hard not having the ability to play in the fall league like we normally do," senior Molly Ashcraft said. "…Not having a coach was hard because as soon as she was announced, tryouts were the week after."
With Grissett now almost through the first month of her first season, she has been pushing the players and trying to get the best out of each player every day. Hard work and dedication are things she preaches to her players to keep working hard and goals will be met.
"She pushes us to be the best we can be and makes us want to work hard," Ashcraft said. "She makes the conditioning fun and enjoyable as well as learning the game."
Grissett has seen every level of the game coaching from the rec level all the way to the collegiate level and everything in between. She also was a standout player at Old Dominion University in which she graduated with a bachelor's degree in health and physical education. Now she is teaching at the Prince George Education Center.
Coaching the junior varsity squad for the 2016-2017 school year, Grissett will already be ahead of the game with her knowing some of her players' styles and work ethics.
"Knowing them, knowing their work effort and knowing what they can do gives me a heads up for what we need to work on to improve," Grissett said. "I also know what they can do which helps me know what key roles they can do to help the team get better."
Coming into the season the team has their sights on a particular tough rival match-up. A match-up in which the opponent made it to the state finals last year. With the experience that has come back from last season, the girls know what they offer and know how to tackle the game.
"Hopewell will be the toughest match-up," Grissett said. "Hard work in practice and working hard on both ends of the ball. Just trying to make sure we're solid in what we do. Being a first year varsity coach in this district, I really don't know what other teams offer."