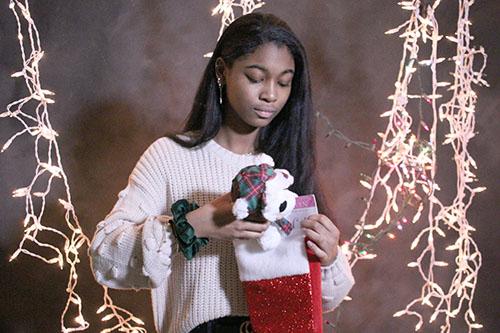 As the magical Christmas season comes around, most children wake up on December 25th to an abundance of presents waiting for them under the Christmas tree. The young children are excited knowing that they made Santa's good list and the teenagers are happy playing with their new phones and tablets.
However, there are less fortunate children who grow up not having the perfect Christmas. These kids never receive items from their Christmas lists. Mu Alpha Theta members and International Baccalaureate (IB) students are working to give these children a wonderful and meaningful Christmas like most people usually have.
In previous years, IB has joined with Mu Alpha Theta in collecting items to donate. Any donations gathered go to the Elf Helpers who distributes the stockings to children. Junior Grace Roane is currently in her second year of being a member of Mu Alpha Theta, and understands how the stockings directly benefit children in need.
"[The stocking donations] will make [the children] really excited for Christmas because a lot of them don't get very much," Roane said. "Now, they have the opportunity to get gifts and it will make them happy. It will also help them because it has stuff that they need."
Senior Makaila Williams, the vice president of Mu Alpha Theta, knows what kind of items have the greatest impact on the children. On top of coloring books, crayons, toys, and stuffed animals, children also need to receive essential personal items.
"The needs, like toothbrushes and hairbrushes [help the children the most]," Williams said. "Just simple things we use every day."
Due to the fact that this is Roane's second year helping less fortunate children, she too knows what additional items the kids will need during the wintry Christmas season.
"Socks, hats, and anything to keep [the children] warm while it's cold [would help the children the most]," Roane said.
Any size stocking donation containing these items would greatly benefit the children, although some people do not know about it. Williams is aware of how the donation works and is happy to enlighten those who do not know about it.
"We get a whole bunch of items, like their needs and wants, for young children who are less fortunate than us," Williams said.
Roane expects this year's stockings to be a success due to the results of the previous year's donations.
"This is my second year participating,"Roane said. "I [participated] last year and this year. Last year, we got a lot of stockings and I think it went pretty well and I think it will be the same this year."
Williams is also hopeful about stocking donations due to her knowledge of the amount collected in prior years.
"We usually have around one or two boxes full [of stockings]. Enough for maybe a classroom of children, or maybe more," Williams said.
Making sure the less fortunate children have an exciting Christmas is very important to both IB and Mu Alpha Theta members, especially Williams.
"[The children] don't have the same opportunities as us: to have as many things bought [for them]. It's really nice to provide for them when they can't have the same as us," Williams said.
The children aren't the only ones who benefit from this project. The Mu Alpha Theta members as well as IB students are left with good spirits and receive joy when they help kids. Sophomore Gracie Thompson is an IB student who benefits from doing this good deed.
"[Donating] makes me feel really good considering less fortunate kids don't get as much of a Christmas as we do," Thompson said.