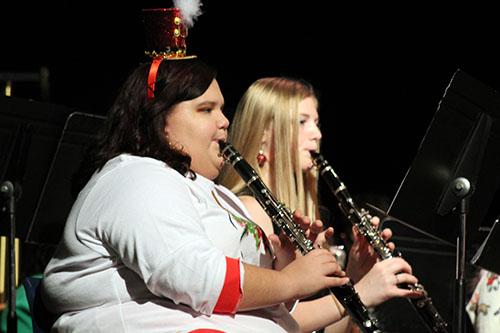 How did you feel about the Winter Concert?
Senior Jordan Nugent: "I was really excited about the winter concert. We spent lots of time preparing these pieces and we have worked very hard. It's not like our normal concerts where we are very serious. it's very laid back. I think that's why Christmas concerts are my favorite."
What instrument do you play?
"I play the clarinet in both concert band and symphonic band. I play marimba in instrumental ensemble."
What pieces did you perform?
"In concert band we performed Feliz Navidad, Hymnsong Variants, Mele Kalikimaka, and A Winter Celebration. Instrumental ensemble performed Jingle Bells. Symphonic band played, The Polar Express, Greensleeves, How The Grinch Stole Christmas, and I Want A Hippopotamus for Christmas."
What is a way you practice on your own?
"I personally practice all I can whether its my solos or a part of music that is never heard. It is always important to know your part."
How has Mr Warnock helped you prepare for this concert?
"Warnock has been amazing helping us prepare for the Christmas concert. He always helps us with parts and rhythms you don't understand. Whether it's lip slurs or scales he has his reasons of note exercises to help us get better each concert."
How long have you been in band?
"I have been in band for five years. I have been in concert band for three years and symphonic band for two years."
What made you want to be a musician?
"I have always had a love for musicand I always wanted to be musically involved and I definitely could not sing. I joined band and that was the best decision of my life. I quickly realized how much I loved being in band and everything involved with it. When you join band, you automatically have a family who is always there to support you no matter where you are or what you do."