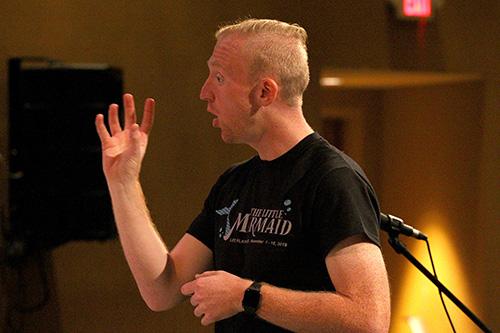 Hurriedly packing his bag in the afternoon, the 2:30 bell is only the beginning of a busy schedule for David Dockan.
Dockan is the middle school choir teacher. This year he reached out to band director Michael Warnock and offered his assistance with the marching band.
"I just reached out to Mr. Warnock and said, 'Hey, I'm a trumpet player and would love to help out'," Dockan said.
Adding this extra commitment was just another tax on Dockan's busy schedule. Dockan rushes between Prince George, Fort Lee, and Richmond everyday just to fulfill his commitments.
Despite the hurried lifestyle, Dockan still finds joy in facilitating a love for music in children.
"There are days that it feels like a job, but overall, it's is such a great experience to see people make music and I get to make music," Dockan said.
Dockan did not start his musical journey at Prince George. From marching at West Virginia University to working with the Royal Marching Band, Dockan has been able to share his love of music with many students.
"They see that, as a musician, I'm also doing things outside of school and like there's still opportunities for you outside of school music and community music," Dockan said.
Dockan's primary goal is to spread the joy and love of music he has to others. It inspires Dockan to see a love for music all the way from the middle school up to high school level.
"[I enjoy] seeing people become better musicians and better people and just seeing people get that love of music and then seeing these students just grow as instrumentalist and grow as people and musicians," Dockan said.
The Royal Marchers see Dockan's commitment as an opportunity and are grateful for the work Dockan has put into helping them.
"He has helped us with our fundamental marching which is a big part of what judges look for, to see if we can march in time and if we have good posture," senior trumpet leader Alexandria Johnson said. "This also helps us have a good tone quality when we play."
Dockan helped the marching band achieve cleaner marches through different methods of repetition.
"He would make us repeat routines over and over because he stresses the essence of it," senior drum major Stanley Taylor said. "In the end though, it's worth it."
Along with teaching and assisting the band, Dockan also commits time to the Fort Lee Playhouse in their current show, The Little Mermaid.
Director Storm Burks has worked with Dockan for years in many different facets. Burks enjoys seeing his friend and colleague thrive in his busy environment.
"Mr. Dockan is very well prepared," Burks said. "He's organized. He's the kind that thrives being busy, and what everybody else would see as an overwhelming schedule, is just kind of where he falls into this comfort zone."
Along with the preparedness Dockan brings, Burks also is grateful for the positive energy and friendship he has with Dockan.
"When you get to work with people that you're friends with, they help inspire it, and it never becomes work," Burks said. "It's just getting to play and create art."
Dockan's behind the scenes work has not gone unnoticed. Dockan is appreciated as a passionate musician who is patient and wants to share his love of music.
"[I want to thank Dockan for] his patience," Taylor said. "Not a lot of people are known to stick around when mistakes are often made but he stood with us even when ideas didn't work out."