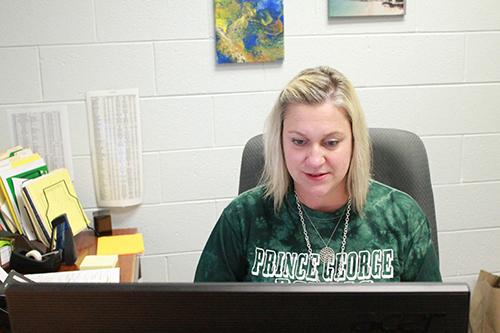 Fixing scheduling conflicts, meeting with students about scholarships, and helping students with their future plans. These are all the responsibilities of returning guidance counselor Tara Seely.

 Back for her eleventh school year, Seely, is back at Prince George High School. She started at the high school in 2009 and went until 2013. She left to go to Colonial Heights High School. After two years, Seely felt that it was time to come back to Prince George.                                                   

"Then I ended up coming back to Prince George where I was at N.B. Clements for the last four years," Seely said. "This is my first year back at the high school."

Students are the driving force that inspired Seely to become a guidance counselor.

"I started working the schools as a juvenile probation officer and I really liked working with students in the school," Seely said.

Seely did not start her career in the state of Virginia. She attended college and started in Pennsylvania.

"My undergraduate degree is in Physcology from Bloomsburg University in Pennsylvania," Seely said. "My master's degree is in School Counseling from the University of Scranton. My concentration is Secondary School Counseling in Pennsylvania, but when I came to Virginia it became reciprocity Secondary K-12."

Being a counselor is more than just helping students who are struggling. Seely has come back to the high school with new responsibilities.

"I am now learning different parts of the job," Seely said. "I am in charge of the PSAT, helping to get accommodations for students who have IEPs [Individualized Education Programs] to take PSATs, SATs, and AP tests, and also Dual Enrollment. That's a new aspect of my job." 
Like all new staff members, Seely has one thing she wants students to know.

"My door is always open," Seely said. " I might not always be available, but I want students to feel like they can always come and talk to me if they need to. If I'm not available, I will reach them as soon as I can. All issues are important."