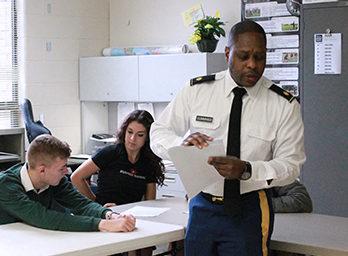 JROTC students line up in formation, and move in unison down the hallway. One of the cadets is leading the marching formation. A cadence is repeated by the cadets, after the squad leader. In the back of the formation is former Morehouse College and Augusta State University graduate, Major Charlie Cummings, Sr.
"Becoming an instructor is a way I want to reciprocate favor shown to me throughout my military career and life in general," Cummings said.
Cummings has no previous high school teaching experience, but has prior leadership experience in and out of the military.
"I have been an instructor at a recreation department for five years," said Cummings. "I have also instructed in one form or another in the military for 21 years."
While excitement comes with becoming a high school teacher, there are nervous jitters that come along with the job.
"I'm nervous about not having enough content to capture and keep students' attention," Cummings said.
Everyone has a reason for why they choose the teaching profession. Cummings decided to come to Prince George High School to help grow the next generation.
"The desire to develop or inspire young people has motivated me to become an instructor," Cummings said.
Having a goal is an essential part of each school year. Cummings hopes to help students improve on their previously learned skills. He also hopes to make a good name for the Prince George High School JROTC program.
"Specifically, I want students to enjoy JROTC and leave the school year feeling they have learned how to become a better person and leader," Cummings said.
When a student is fully able to grasp a concept, it can be rewarding. For Cummings, the moment a student's eyes light up is what he is most excited about this year.
Like most new teachers, Cummings has one piece of information he wants his students to know.
"I care about them," Cummings said.