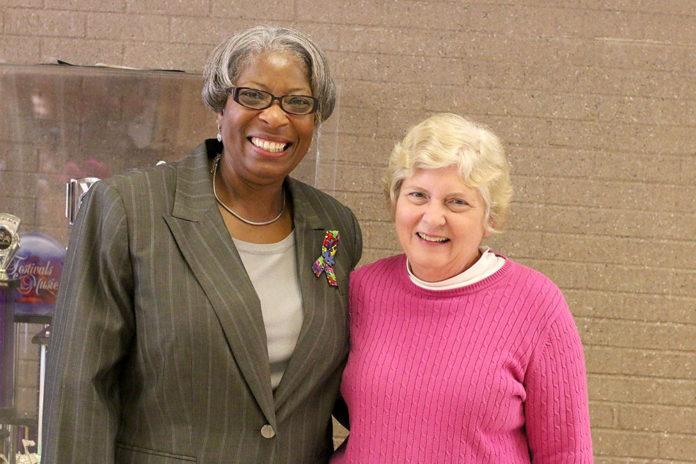 Alhough it might be difficult for many to accept, at the end of this school year longtime government teacher Louise Thornton will retire from teaching after 53 years in Prince George County. As the community says goodbye, we sit down one last time to interview this legend.
How did it all start for you here at Prince George High School?
"Between my first and second year I was at William and Mary in grad school and I needed a recommendation and I called the School Board Office and the assistant superintendent was a man by the name of Sam Owens. He was from Sussex County and he said, "Would you like to go to the high school?" And I jumped at the chance. The history teacher at the high school was leaving to go to Hopewell and that is the father of Clarissa Jack Daniels.
So I came to the high school in 1967 and was teaching history and government. Then I went into just government which I like better than teaching both. In the fall of 1967 I came to the high school and my first graduating class was 1968."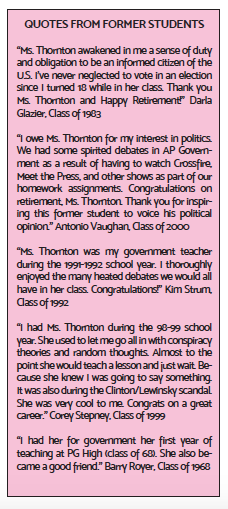 Why teach government?
"I enjoyed politics. My grandfather was on the Board of Supervisors in Sussex County for 40 years. So I grew up listening to local politics, but also listening and watching TV because I can remember the 1952 convention. We had just bought a TV and of course it was a small black and white one and I watched the convention. Stephenson received the Democratic nomination and Dwight Eisenhower the Republican nomination. I remember… you know the South was primarily Democratic at that time and my grandfather and a neighbor of his voted for Eisenhower and they were teased horribly."
Have you always wanted to be a teacher?
"Yes I always wanted to be a teacher. My mother was a teacher. She taught at the elementary level and she always loved it. My mother, by being a teacher, was home when we were home and I think that is very important."
How did you get started with Model UN?
"We started the Model UN in the 1980s. I saw this advertisement in my mailbox about the Model UN in New York. I mentioned it in class to an honors group and they really liked the idea. So what we did was that we did it as a class. We took the honors class to NYC. After a while it became too many students and so then we made it into a club. One year we had two buses that went up there and that was too many."
Why stay in Prince George?
"I stayed in PG because the people at the high school, the adults, we really are a family. I just couldn't imagine leaving them. The hard part of retiring is that my friends are here. The administrators have been very supportive of teachers and I think we teachers are supportive of one another when bad things happen to teachers like the death of a loved one. That support has made me want to stay."
What has been the biggest change?
"Well the biggest change came when we went from the 50 minute classes to the 90 minute classes. That was a real big change for me. Over the years I have adjusted. It is long. It is very long. Sometimes I feel that we put things into our 90 minute schedule that we wouldn't normally put in there. Some of the students who can't handle the long time are exhausted from working in the evening."
Advice for future teachers and the Class of 2019?
"My advice is that you really have to love being around young people. You have got to really want to make a difference, but realize you can't reach every child. But cherish the moments when you do reach a student. Teaching is extremely important."
"For the graduating class I wish them health and happiness and contentment in whatever you do. I hope everyone one of you will know the value of treating people with kindness and respect."