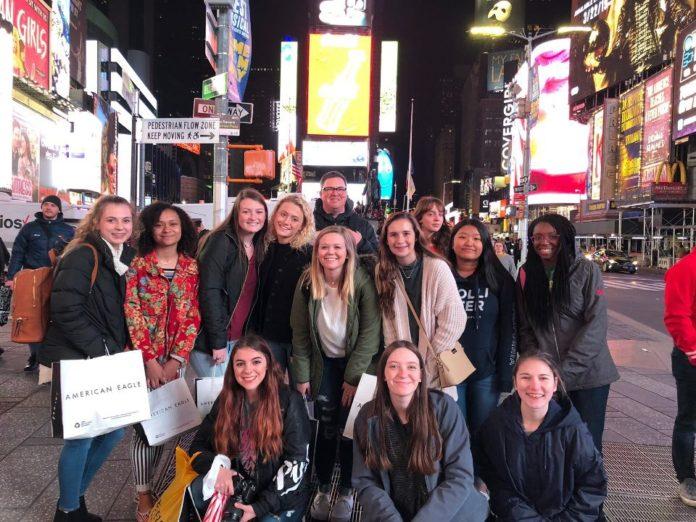 On Wednesday, March 20, Royals Media staff members departed from Prince George and boarded a train headed for New York City.
At Columbia University, the students attended the Columbia Scholastic Press Association's 95th annual spring convention. Students from all three Royals Media staffs attended different sessions and learned a variety of skills to bring back home.
Freshman Ashton Lohnes learned a lot about photography during her first year on the yearbook staff. She attended photography sessions at CSPA to further expand her knowledge and skill as a photographer.
"I learned that instead of focusing on one main subject, [you should] explore the surrounding subjects and take photographs of them [too]," Lohnes said.
Senior yearbook editor Jenna Miles learned several tips for sports coverage while at the convention.
"One thing I learned was in order to cover more people in sports, you should post the roster and have the goal of covering everyone on that roster," Miles said. "[You should] also get connections with coaches in order to get close [and] personal shots."
At CSPA, Royals Media staff members met and got to know other students from media publications from across the country.
"[I enjoyed] going to the convention and seeing all of the different schools from each state and then seeing which schools got awards for their publications," Miles said.
Junior and staff writer for The Royal News Gabbey Miner also appreciated the diversity found in New York City.
"The most interesting thing about the trip was seeing the clash of many different cultures and people in one city," Miner said. "Each individual in New York has a completely different story, and it was nice to learn as many as possible during our stay."
One story that was particularly popular with the students was the story of Dominic, a street performer who spends his days blowing large bubbles and thrilling passerby in Central Park.
"[Dominic] make[s] a living entertaining the public and that's something we don't see in Prince George," senior yearbook editor Mady Degan said.
Senior and yearbook Editor-in-Chief Monica Thompson also appreciated the diversity of the city, but in a different way.
During Thompson's adventures in New York, she visited St. Patrick's Cathedral. As a military child, she spent many years living in Europe, and seeing the intricate marble columns and tall flying buttresses of the cathedral reminded her of home.
"Going to the cathedrals were interesting because of how similar they are to European cathedrals," Thompson said. "It was common to see cathedrals everywhere we went [in Europe], so [visiting St. Patrick's Cathedral] was like a little piece of my second home being brought to me."
Apart from touring the city and attending the conference, the Royals Media staff attended a showing of the musical Wicked at the Gershwin Theatre.
For senior Anna Mitchell, Editor-in-Chief of The Royal News, being able to see live theatre was an amazing experience.
"I got chills when we saw Wicked," Mitchell said. "I'd listened to some of the soundtrack before, but live theatre pulls you in in a completely different and amazing way."
While at the conference, Royals Media took home a Silver Crown Award for its hybrid publication of The Royal News and trnwired.org. This is its sixth Silver Crown.