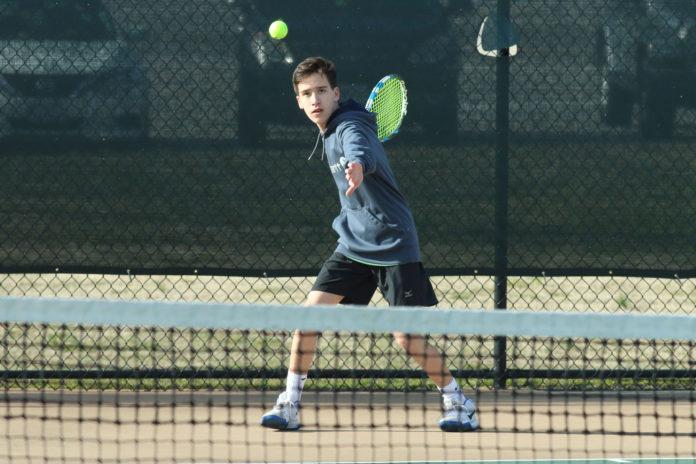 Sweat drips down junior Max Bennett's face as he throws the tennis ball in the air for the first serve, and all his hard work and training pay off as he serves an ace. Bennett is one of many juniors and sophomores that compose the tennis team, with only one senior, Alexander Pino, on the roster.
"It is a lot different, as instead of me being a younger player who is learning from the older ones, it is the opposite way around, and it is a lot more fun in my opinion," Bennett said.
Returning juniors are the team's main source of peer leadership since the only senior on the team is playing for the first time this year. This has led to the juniors having to be leaders while still learning and developing their skills as well.
"It's a lot of fun helping and teaching the younger players things I have learned over the years, in which Carter and I are like mentors to our younger teammates," Bennett said. "I try to help the younger ones as much as possible to get this team as good as we can."
Another form of leadership is the one senior on the team, Pino. Although it is Pino's first year playing tennis he has played other varsity sports, including volleyball, that have given him experience with leading a team.
"I feel as if it is my responsibility to guide my peers to be the best people and teammates they can be no matter the sport. So even if it is my first year I still make sure that everyone around me keeps their head in the game and their spirits up," Pino said.
A young team has many advantages, long-term and short-term. A long-term beneficial effect of having a younger team includes the longevity potential for the next years of the team. While, a fresh look at techniques, an increase of energy, and an opportunity to mold new players with no prior knowledge of the sport are short-term advantages of a youthful team.
"The advantage is you are going to have more longevity potentially. So, I've got a lot of juniors and a lot of sophomores, so that means next year I should have a lot of seniors and a lot of juniors, and then the next year a lot of seniors," Tennis Coach Matthew Weston said. "It gives you two to three years after the season of solid participation, hopefully."
In contrast, there are also disadvantages to having a predominately youthful team. Downfalls to a team of underclassmen include more time spent teaching rather than developing skills, and lack of upperclassmen leadership.
"Young teams require a little bit more support, they don't necessarily know what they are doing, they don't know what to expect. They get caught in scenarios that they don't know how to adjust to, so you just have to talk them through it a little bit more than a more experienced team. The other side of it is you don't have any leaders that are used to going through the process," Weston said.
The tennis season has just begun and many of the players have personal goals for the rest of the season already set in mind of either making the top six or playing in regionals. However, Weston has a different viewpoint on the gals for the team.
"The goal is to get them acclimated and to grow quickly in the first half of the season. So that we can come back in the back half of the season and be a lot more productive and be ready for the tournaments," Weston said.