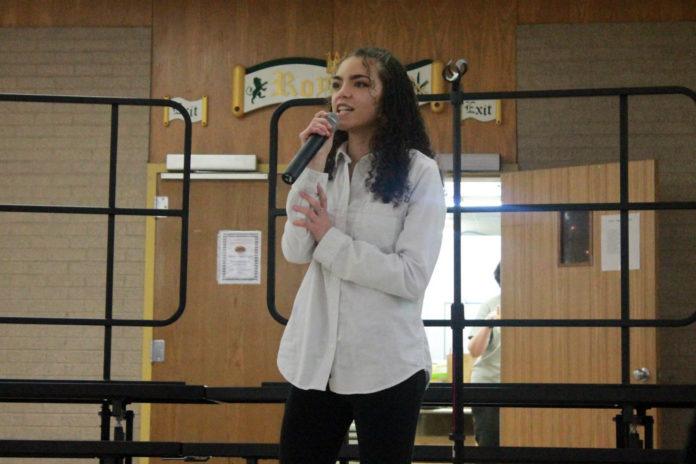 On Saturday February 23, 2019 PGHS audition choirs serenaded a hungry audience with performances from Chamber Singers and Treble Chorale. The Choral Department held their third annual Spaghetti Dinner to raise money for their upcoming competition in New York.
Choral Director Storm Burks and the choir students provided food and entertainment for those who made donations to their trip to perform in the nationwide competition. This year was the first year Treble Choral was added to their performance, making this the biggest Spaghetti Dinner so far.
"[Adding Women's Treble Choral] added the number of people in attendance, it added the number of students participating, it added the number of acts that we had at the event, it was a part of the natural growth of the program, I think it was the next step in the growth this program has seen over the last three years, since I came to Prince George High School," Burks said.
Junior Chamber Singer Amanda Harris both served food and provided entertainment when she sang 'Alone Together' by Sabrina Carpenter as a solo and Ashley Tisdale's cover of 'Exes and Ohs' as a duet with Senior Rylee Hughes.
"I enjoyed how everyone was working together. Some people had performances and some people had to keep their tables covered, so I really liked working with Chambers and Women's (Treble Choral) to get everything together to get everything done," Harris said. "Last year and the year before it was just Chambers… we wanted to include them in competing which means including them in fundraising for the competition."
All of the food, raffle prizes, and decorations were donated from businesses in the local area to help support the choir department.
Students sold tickets to the event and used profits to help with the cost of their trip so they can have the opportunity to compete in front of critically acclaimed judges. Profits from tickets sold at the door as well as tickets sold for the raffle were added to the mutual fund to benefit all of the students.
"I was at the table with the raffle tickets, I was incharge of counting the money and giving people their raffle tickets. I was part of both the overall [performance with Chamber Singers and Treble Chorale] and I had an individual performance with Kaitlin Brantley, we sang "Jar of Hearts" [by Christina Perri]," Senior Nikaylah Brown said.