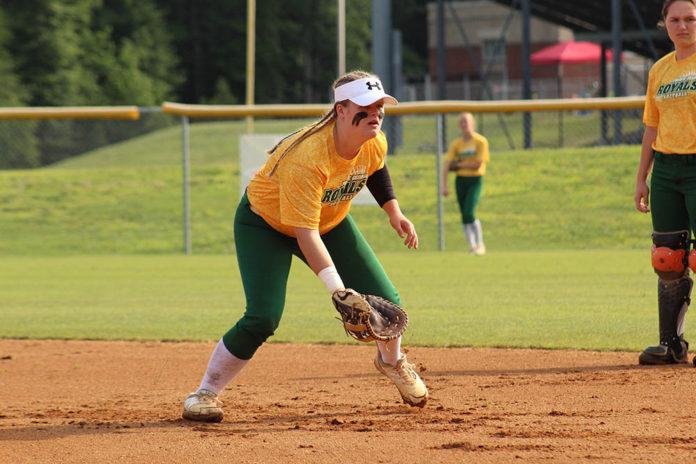 After losing starting pitcher Laura Thompson to college, the Royals are trying out many different pitchers to replace her. 
"I know that this season there will be a lot of adjustment since we did lose our starting pitcher, but there is so much in store for us," senior first baseman Kyla Nase said. "I have so much faith in the underclassmen that they will take it into perspective and realize what their role is. I know that whoever is pitching this year will step up to the mound and get the job done."
With Thompson striking out 12, the Royals went on to defeat Brooke Point in the state championship game. This was the first time that the softball team ever even made it to that game. With this victory, this will always be cherished by these players and the community.
"It was a goal that we set for ourselves at the beginning of the season, but about midway through the season we really felt like that goal was obtainable," head coach Nealan Chandler said. "We put in some extra work at practice. So when that last out was recorded, we really felt like there was some accomplishment. I was really happy because the girls had dedicated so much time and effort to get there."
Defensively, six players make up the infield and three in the outfield. The Royals lost seven starters from last year's team to graduation.
"We will have seven new girls on the field when opening day happens," Chandler said. "We have to work hard. We have to find everyone's place on the team. Hopefully the newcomers will understand this is a team and not a bunch of individuals."
The good news is that the players coming up to varsity are players who have been in the program for awhile and who all played on a successful junior varsity team.
"I'm really happy because our JV team was 14-1 last year," Chandler said. "The JV coach, Coach [Kristen] Dize did a great job preparing the girls for varsity. Midway through the season, we had to bring up a player because we had an injury. Even though she came up, it was a 2-3 week adjustment period that she had to go through to learn my style of coaching and how it was different from JV. There will always be an adjustment period."
Something the Royals had last year was consistency. They knew going into most games who was playing each position. Throughout the first couple of games, certain players will now need to step up and claim these spots.
"This year since we will have a completely different team, we will bring new dynamics to the line-up and how we play in the field," Nase said. "We will highlight our strengths and use them to maximize our ability. This will create a whole new type of game we play."
With players such as Thompson who were two year starters on varsity leaving, the experience on this team will definitely be lacking from what was had in the previous year.
"Last season there was a lot of experienced players but this year they are young and have a lot to learn," junior right fielder Erin Miles said.
With tryouts set for February 18, the returning players are excited to get back out there and try to repeat the accomplishments that were made last season.
"After last season's success, I am eager to head into this season," Nase said. "My emotions are all over the place. I am sad about those who left last year but I am extremely excited for the new girls coming up. I am ready to bring in the same energy, if not more, as last year so that we can match exceed last year's record. I am ready to work hard but still enjoy my time to make the best of every moment on the field with my teammates."