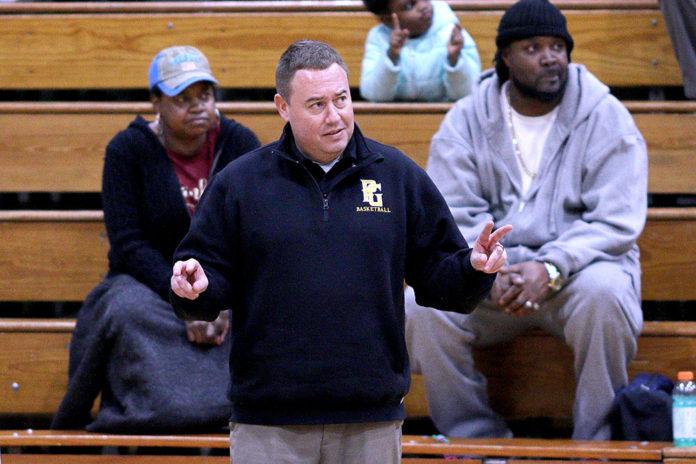 With only a few games left in the season, Carter Marks sits down with Coach Carr as they discuss the importance of the last couple of games. The Royals take on the Colonials of Colonial Heights Friday February 1, 2019.
Hello my name is Carter Marks and I am here with Coach Travis Carr and this is the Triangle and Two podcast.
CM: When you were suppose to play Hopewell on Tuesday take me through the emotions of your players and yourself when you are trying to get ready for a game and then you get the call that it has been canceled.
Coach Carr: Yeah Carter Tuesday was kind of funny. You know we knew we had weather coming in and I was trying to watch and trying to figure out using my sources of what's going on. Really no one knew what was going to happen at the time and the other district teams started canceling their games.
And we kind of waited until 4:00 PM to cancel and by that time the JV team was already in there. They had a pregame meal and they got the news and they were kind of upset. Everybody was raring to go and play and all of a sudden your emotions just stop right there. And everybody is pumped up and ready to play and then everyone has got to go home and do their homework.
It's tough here being the last week of the season. And trying to get a date that works for everyone.
We are trying to figure out a date to reschedule that.
CM: Turning your focus to the game away against Colonial Heights how big is this game considering there are only a few games left in the season?
Coach Carr: You're right. There are four games left in the season. We are sitting at 11-7. And four more games gives us our 22 game slate. We are right in the thick of things with the playoffs. The top eight make the regional playoffs. Last week we were sitting at the number four seed.
For us I know that Colonial Heights came over here earlier in the season and we had a pretty good outing by about 40 points. We need the same intensity, the same production, same mindset going over there on Friday. Typically it has been a tough place to play over there. They play well at home. They are well coached. They have some pretty good players. So we need to come to play Friday night.
CM: With only a few games left how are you making the push to get the highest seed possible?
Coach Carr: We are and the number one goal going into this season with the new format is qualifying for the tournament.
I love the new system personally as a coach, the way it is designed. Every game means something. The players are playing for something. Not everything is given to you. A playoff spot is not given to you at the end of the season, you actually have to earn it. I absolutely love it. It almost feels like college basketball and you are selected for one of those 64 teams and you play a tournament. It's February Madness. The guys are locked in. We have that mindset as we get to the finish. And yes we are sitting in a good position now but our goal is to host a first round game.
CM: Thank you Coach Carr and that was the Triangle & Two podcast.