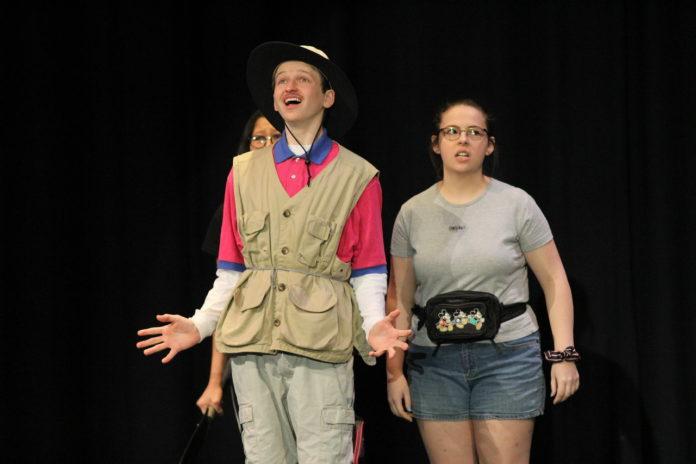 The lights turn on and a family walks onstage. The father, dressed in fishing gear, leads the way, babbling excitedly. The mother follows with a scowl and her lip curled. Two teenagers follow them- one skipping with joy, one trudging along slowly. The father announces the day's task: fishing. Exasperated, the rest of the family starts to argue as the audience laughs. This is "Famtime," the third scene from the PG Players' production of the play Our Place, written by Terry Gabbard.
The PG Players' production of the show, put together by 14 actors, two techies, and one student director, won them a third place award at the VHSL Theatre competition at J. R. Tucker High School on Thursday, January 7th.
Our Place is a one-act play that, through five short vignettes, tells the story of a small community and the dock that binds them all together.
Our Place was directed by senior Katelyn Burnell. This was Burnell's first production as director and the PG Players' first student-directed production in over a decade.
"I've always wanted to direct a show," Burnell said. "I've always kinda had that leadership in me, so when I was given the opportunity to be able to direct a show, I instantly took it."
Burnell at first struggled with her new role, but soon came to enjoy the responsibility.
"The hardest part of directing … was finding the balance between being a friend and being a director," Burnell said. "You don't want to be too easy, and you don't want to be too hard. … A lot of my personal friends were in Our Place. I wanted them to know that it wasn't me being harsh to be harsh- it was because I wanted them to be better and I wanted them to be better for the show."
Despite Burnell's initial worries, her strict, go-getting attitude worked in her favor. The PG Players beat five other schools to win third place at the conference.
"I was so overwhelmed with happiness that I cried," Burnell said. "I was really proud of each and every single one of them."
The students' excitement grew even larger when they realized that one of their very own had won a special award.
Senior Nick Humphries was one of five students named to VHSL's All Star Cast for his performance as Al.
"[This award] means I've actually done good- that there's a possibility for me to go somewhere eventually [with acting]," Humphries said.
When the PG Players entered J. R. Tucker High School, where the competition was being held, they were nervous, despite their weeks of hard work.
Sophomore Autumn Stotesberry felt nervous walking into the school and seeing all of the competition.
"There were seven other schools, and all of them were so good," Stotesberry, who played the character Anne, said. "I was very nervous, so nervous. I thought everything was going to go terribly."
However, Stotesberry's fears were assuaged when she remembered all of the hard work she and her fellow students had done in preparation for the competition.
"I was confident with the people around me," Stotesberry said. "The experience was the top-notch thing of all. I just breathed and I [said to myself], 'You know your lines, you got it, you're gonna be fine.' And I got through it."
Stotesberry is looking forward to incorporating what she learned through Our Place and the VHSL competition into her next performance with the PG Players.
"There's always room for growth and you can always do better next time," Stotesberry said. "Know that you did work hard … [and] you can always better yourself, even if you're on top of the world."
Photos of the in-school performances of Our Place can be found here.