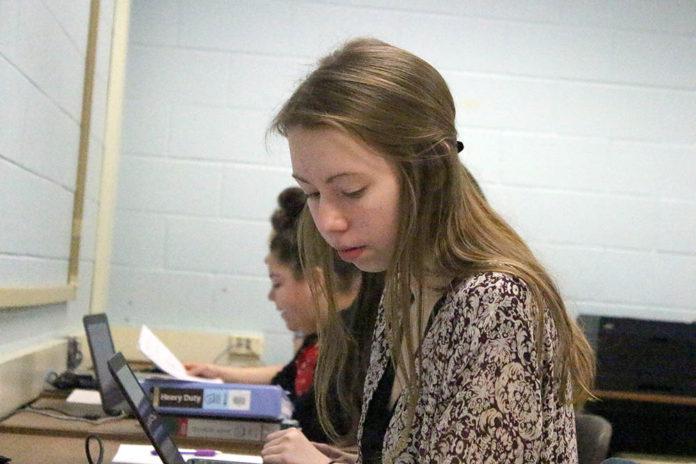 For many, the month of Feb. marks the start to a new semester. For students in the IB program, the month also is an important benchmark for their IB projects. Most IB students are now in the final stages of completing their multistage project.
Prince George County no longer recruits new students for the IB program after it was officially discontinued in 2017. However, students already in the program will continue their coursework and will be able to graduate from the program. After this class, only two more classes will complete the IB MYP program.
Successful completion of the program is contingent upon completion of the personal project, a year-long project where students may study any topic they choose and document their work through a multi-step process journal. Projects may be service-oriented, such as planting flowers in a formerly barren garden, or more private, such as learning a new language. Students also complete an accompanying paper. After these steps are complete, students officially graduate from the program and receive their IB diplomas.
Sophomore Ande Davis is a member of the Chamber Ensemble, one of the two advanced choirs at PGHS. For her project, she chose to write and record her own songs.
"I've always wanted to try to write songs," Davis said. "Writing them is taking longer than I thought it would. I've started recording a little bit, but just demo [music]."
Like Davis, sophomore Kaitlyn Barker designed her project based on her own creative skills. Barker decided to incorporate her quilting skills into her project, creating sixteen quilts in total to donate to the Children's Hospital of Richmond.
"I learned to quilt last Jan. with my mom, and I enjoyed it," Barker said. "I wanted to make a difference in the community, [so I chose to donate quilts]."
Barker came across an unexpected obstacle when she broke her hand, rendering her unable to quilt for four months.
"I broke my hand in Oct. so I didn't have any time to [quilt]," Barker said. "I had to hurry and do 16 quilts."
Despite the delay, Barker finished creating her quilts on time. Her only remaining task is to deliver the quilts to the hospital.
Sophomore Grace Roane's goal was to donate to a local animal shelter. Roane collected food and supplies for the Hopewell Humane Society, placing donation boxes and pasting fliers around the school in order to advertise her project.
"I am very passionate about working with animals and I love them, so I just wanted to help them out in any way I could," Roane said.
Roane is not the only student whose goal was to help animals. Sophomore Alex Moore had a similar goal in mind- helping local animals- but the premise of her project was to hold an adoption event at a local animal shelter.
"Animal cruelty is something that I've always cared about because I think it's something that should be stopped," Moore said. "I figured this was my way to try and raise awareness for it."
So far, Moore has completed the main part of her project. Her only task that remains is to organize her results.
Librarian Levi Owens took over as IB Coordinator this year when the previous coordinator stepped down.
Owens' favorite part of being the IB Coordinator is watching the students' projects come together.
"[I love] seeing a grand plan culminate," Owens said. "Being a part of students meeting with success, and helping them learn from their misfortunes is extremely rewarding."