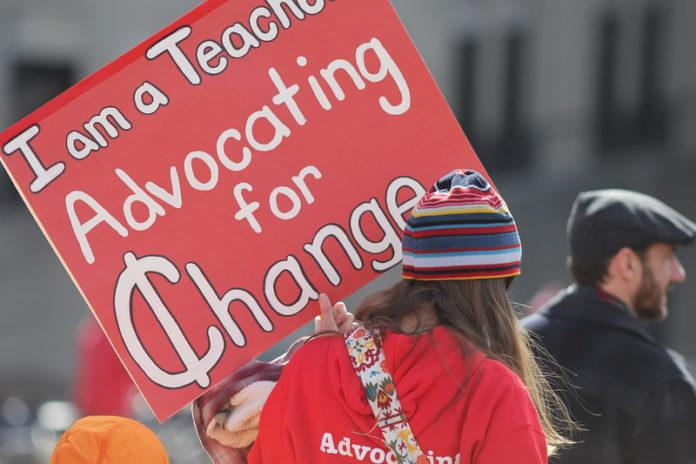 While lobbying for bill HB 28322, some of the Royal News staff witnessed the Red 4 Ed rally in front of the capitol building in Richmond, Virginia. The rally was organized by Virginia Educators United, which is a campaign made up of teachers and members of the community that "fight to ensure that public schools get the resources they need." According to the VEU website introduction.
The VEU webpage states that Virginia teachers' salaries are in the "lowest tier nationally," but teachers are still expected to teach in overcrowded schools that lack maintenance. Since 2009, the enrollment in Virginia public schools has increased by over 50,000 students, and the staffing has decreased by over 1,000. Areas with high poverty rates are affected the most by funding cuts, causing up to three times more damage when compared to areas with low poverty. According to VDOE, public schools are financed through a combination of federal, state, and local funds, with most of the responsibility falling on the state and locals.
The rally was scheduled for January 28th, 2019, from 12:00 pm-1:00 pm, with crowds of supporters dressed in red to support the cause. While at the rally staff members had the opportunity to speak with Dr. Erika Zimmerman Damer, a professor at the University of Richmond.
"Both of my kids go to Richmond public schools and will go to RPS their whole educational experience. I think it's vital that we fund public education much better than we've been doing," Damer said when asked why she supported this event.
Damer encourages anyone who does not support this cause to "read more and learn a little bit more about the public schools in Virginia, we rank below Mississippi in spending for public education."
The VEU concludes its mission page with a powerful statement.
"It's time to rebuild the damage done to education funding during the recession and invest in our children."
Virginia has made strides towards improving education for its students, but maybe teachers were left behind.