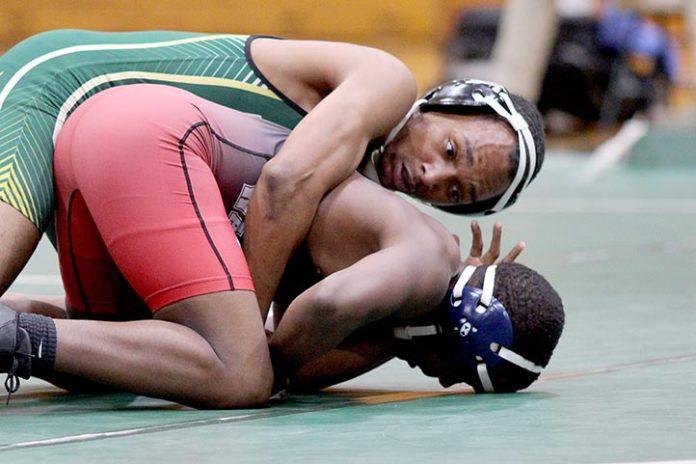 Going out onto the mat, sophomore Marguerite Gootee feels a sense of pride in the sport her family has participated in for years. Wrestling.
Gootee has been wrestling for three years and is inspired by her father and brothers to be on the mat.
"My dad wrestled, and then my brothers wrestled, and I knew people who did, so I just wanted to try it, and then I liked it, so I just kept wrestling," Gootee said.
Wrestling is one of the most interactive, aggressive, and competitive sports, and many that don't wrestle don't understand the work and dedication that goes into the sport.
For people, such as sophomore and first year wrestler, Chris Ganoe, wrestling wasn't their first passion. It was a work towards bettering themselves.
"After the football season I was kind of inspired to start working towards getting stronger and working on losing weight in order to start getting ready for next football season," Ganoe said.
Ganoe is not the only player who decided to wrestle after having played other sports previously.
"I wanted to try a different sport other than basketball and football," senior wrestler Gerald Jeffery said.
Wrestling teaches new lessons that other team sports cannot quite teach.
"I like how it's independent, but at times you need your team, and how the team can count on you for certain things, but for most of the time it's by yourself," Gootee said.
Because wrestling is such a rigorous sport, many factors go into how to win a match. One of the biggest factors is weight.
"In wrestling, the significance of weight is almost everything a lot of times. It kinda controls everything you do in wrestling…," Ganoe said.
Weight determines who the player is qualified to wrestle in a match and much of the training involves maintaining that weight.
"You have to stay on weight. You can't just eat after you're done wrestling, like you can't just go and splurge," Jeffery said. "You have to maintain your weight."
In order to stay on weight the wrestlers must be sure they practice healthy eating habits and exercise frequently.
" We just all have to stay away from fast foods, run, just a healthy diet, and exercise," Gootee said.
Wrestling is a competitive sport and weight is a major component to a wrestlers demise or success.
"…when you wrestle someone, your weight is what really helps you sometimes win matches and lose matches," Ganoe said. "In my case, it helps me a lot of times when I'm wrestling someone lighter or even someone heavier to add my weight into my moves and it allows me to apply more movement."