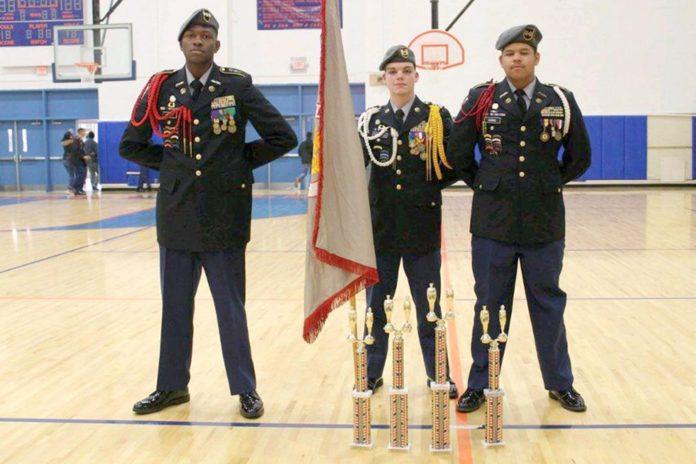 For JROTC cadets, like Private First Class Purdel, Cadet Private Taylor, and Corporal Baylor, the idea of marching starts first thing when they get to school after changing into their pristine uniforms.
The cadets form their squads, where everyone falls in, stepping off with their left foot. The U.S. Army Junior Reserve Officers' Training Corps (JROTC) is one of the largest character development and citizenship programs for youth in the world.
"My parents made me join JROTC, they told me I didn't have a choice. It was a smart choice for me anyway, I want to pursue a military career in the Air Force or Navy," Special Projects and Public Affairs Officer senior Reginald Reynolds said.
Almost all of the cadets within the JROTC program see it as a gateway to joining the military, and an essential play to get ahead in the ranks.
"I joined JROTC because I plan on going into the Navy, and I wanted to get an upper hand," PFC sophomore Jared Purdel said. "My goal for the drill team this year is to be the best. Simple as that."
The Drill Team is an exciting extension of the discipline, teamwork, and leadership skills learned in class. Teams can be male, female, or mixed. When they participate in local competition, they convey as much pride in their school as varsity team sports.
"It's a fun leadership experience for the young ninth graders and it's a good way to build leadership for all of them, everybody, all of the cadets," Command Sergeant Major junior Mason Kienzler said.
The JROTC mission statement is to motivate young people to be better citizens. The JROTC instructors, who are retired military themselves, instill in the JROTC cadets the mission statement, a sense of pride for their country, and an understanding of the military values.
"I enjoy that we get to sit around and teach the new students new things and then they come back next year and retain all the information. I also like that we come together as a family. We win our trophies as a family. We struggle as a family if we have to struggle. Everything we do we do as a family," Cadet 1SG junior Michael Eady said.
On Sat., Dec. 8 the JROTC Drill team participated in its third competition. This event took place at Woodrow Wilson High School in Portsmouth, Va. The cadets arrived early at the high school and were a mix of nerves, excitement, and exhaustion. The cadets squished onto the bus and left for Wilson around 6 AM.
"I was nervous and excited all at the same time. The ride was fun, we all joked around or napped till we got to the competition," PFC 9th grader De'sani Goodwyn said.
Once at the competition the team participated in Unarmed Inspection, Unarmed Platoon, Armed Platoon, Color Guard, Armed Squad, and Unarmed Squad. The team placed third in Color Guard and Armed Platoon, second in Unarmed Inspection, and first in Armed Squad.
"I was beyond happy that my family could win and bring back some trophies. We couldn't have won without our drill commander Cadet Captain senior Christopher Bethea and the other leadership on the team," Goodwyn said.