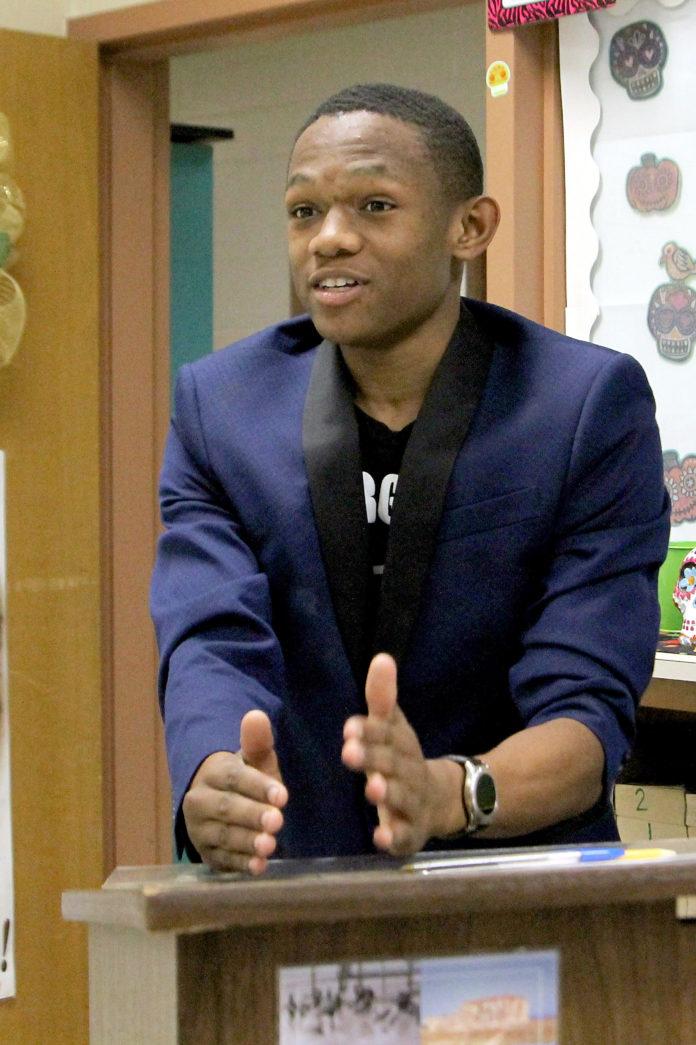 Standing in front of a crowd with all eyes on him, a feeling of nervousness overtakes him. He focuses on his main goal to beat his team members, and make it to nationals. Remembering all the skills he has learned and the compliments he has received about his voice, his confidence returns. Senior Jamal Berry speaks proudly and his voice carries throughout the room, captivating the audience.
Berry is a first year member of the Forensics Team. He is an active member of the team and he attends all the meetings and stays updated about upcoming events. Berry is very excited for this year and has great expectations for the team.
"We have a few different segments and facets of the Forensics team. We have humorous interpretation, poetry, original context, duos, and I believe we have absolutely no one doing historical," Berry said.
Berry explains that there are multiple branches of the Forensics Team. The Forensics Team's multiple branches allow it to appeal to different people. Berry is part of the poetry interpretation segment, which he finds great interest in.
"I've been told that my voice is automatically carrying and I know I'm going to do something with that when I'm older, and the Forensics team helps articulate the ability to verbally get something across," Berry said.
Berry was persuaded to join the Forensics Team by the advice of other people. Thinking about his plans for his future, he decided joining the Forensics Team would benefit him and his skills.
"The skills I'm hoping to improve are my voice and ability to captivate an audience," Berry said.
Berry clarifies the exact skills he is hoping to improve. Berry is focusing on those specific skills because a powerful voice that can captivate an audience's interest is a very important part of being on the forensics team.
"If you're planning on winning anything you have to have a voice and a way of words that stands out and captivates the audience," Berry said.
Berry explains what his personal goal is this year while being part of the Forensics Team. He also mentions that the team competes in tournaments, possibly even regionals and nationals, which is one of the popular activities that the Forensics Team has to offer.
"My goal this year is to win. We have several tournaments and we go all the way to regionals, and we can go to nationals if we make it past regionals. Only two people per segment can go to nationals, so I also have to defeat the other people in the club to win," Berry said.
Berry explains what exactly he is planning to win, and a step he has to take to reach that goal. He mentions that to go to nationals and win he must compete against the other team members in his segment. Berry is asked to describe, from his personal experience, what it is like being a member of the Forensics Team.
"It's competitive between the Forensics Team members. We're technically not even team members because everything is individual. Forensics is like acting, except individually. The people that are in the same room can encourage each other, but at the end of the day we're all competitors," Berry said.
In conclusion, Berry would suggest the Forensics team for anyone hoping to gain public speaking skills or improve already existing skills. There are many different options when it comes to segments, meaning there are multiple appeals that can catch the attention of a variation of people. The Forensics Team is very competitive and it is a good opportunity to prepare yourself for future plans.