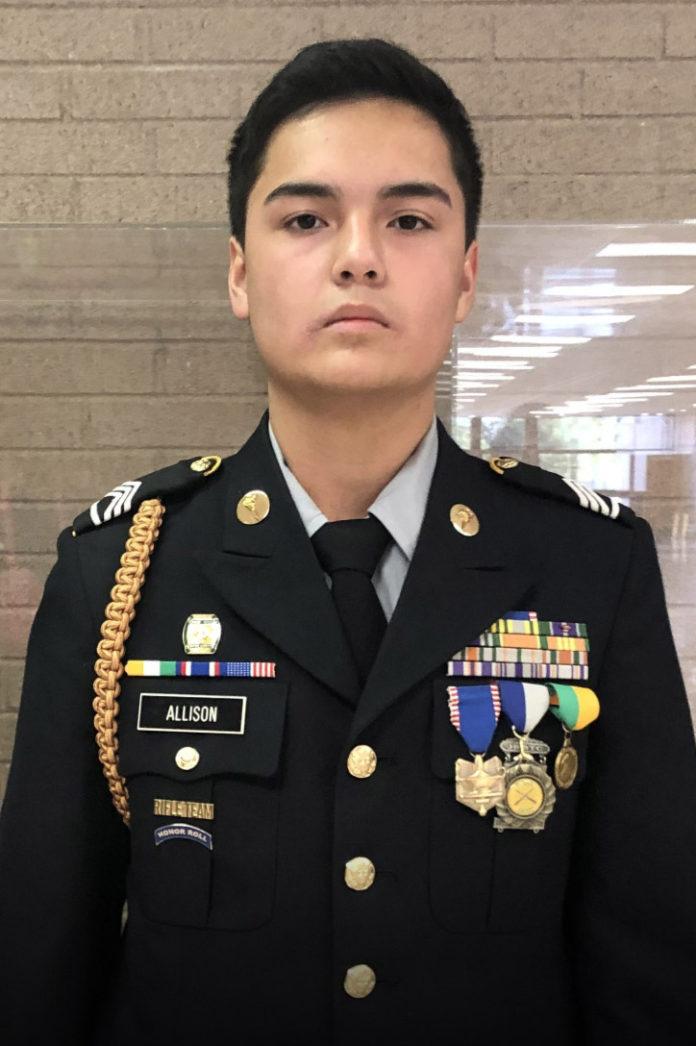 It is Wednesday morning and John Allison's palms sweat while getting ready to walk into the boardroom. He fixes his medals and prepares his voice as he walks into the room of his superiors. He confidently stands in front of them to show he is ready to get promoted.
"The promotion board is a board of people higher up than you that ask you a couple questions, make you do a couple drill movements, and they judge based on how well you do and perform those movements and answer the questions," Allison said.
This is Allison's fourth promotion board. This year he has been promoted to Staff Sergeant as a sophomore.
"Well on all boards that I've done, just the nerves get to me and I can't raise my voice and I need to work on that," Allison said.
From all the times Allison has gone to the board, he often feels nervous in which it affects his voice. However, this promotion board, he has seen improvement in his confidence levels ,but he would still like to work on his voice.
"Well, now this [medal] Superior Cadet, which is the top award you can get other than saving someone's life, which is the medal of Heroism," Allison said.
Leading up to the board, Allison has made impressive achievements in JROTC like receiving the Superior Cadet medal. It is a medal given to a person who displays outstanding leadership skills. He is also one of the top shooters on the Rifle Team he participates in.
Allison's father is in the Air force, but unlike him, he doesn't plan on joining the military after high school. He did JROTC just to try it out, but he found it interesting so he decided to continue on.
"It has taught me integrity, I used to lie a lot, but now I've stopped. I've [also] gotten a lot more confident," Allison said.