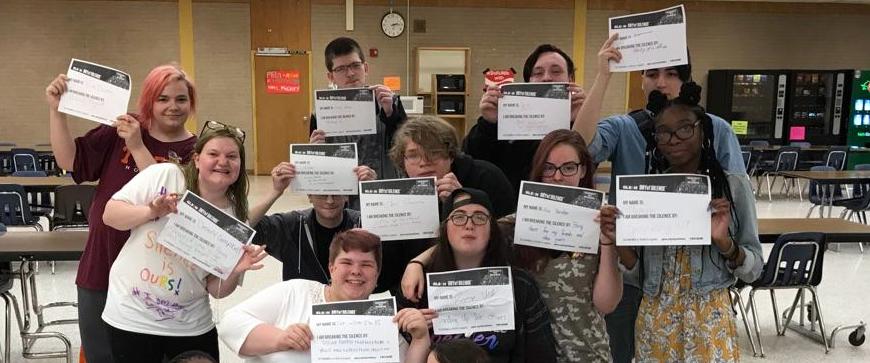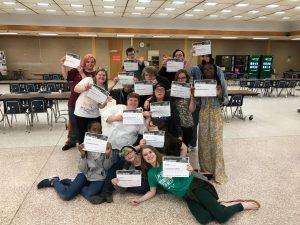 When students walked through the hallways on Friday, April 27th, they noticed a majority of their peers walking in silence. Members of the Gay Straight Alliance (GSA) gathered to put on the annual Day Of Silence.
"We're remembering all the ones that have been bullied or that have no voice and some of those who have committed suicide," said  senior Reece Vick. "We are trying to get people to notice that you can't just care about yourself its time to care about others and see how you act towards others that way you could prevent something that could happen and lead to certain events."
The Day Of Silence is a national movement to spread awareness about how LGBTQ students have been forced into silence by bulling and harassment or family problems.
"It makes me overjoyed that people actually come over here and are willing to do this and it's respectful because I lost a lot of people to suicide or I have a lot of friends that are being bullied and I don't tolerate it and I will stand up for them," Vick said.
According to the GLSEN (Gay Straight Lesbian Education Network) In 1996 students at the University of Virginia had a project on non-violent  protests so they came up with the idea of the Day Of Silence. The next year over 100 Universities and colleges participated in this protest.
"I connect personally with this because for a long time I didn't fell comfortable about my sexuality and I didn't know how I could tell my friends and I still don't know I still meet people on the street and when we're talking they're like meet my boyfriend and i'm like I can't tell you I have a girlfriend because I feel like you're going to cut off the conversation and leave," said Brianna Gettier. "It's just not comfortable having people not being able to accept those who are different."
Students who participated in this event wore a ribbon that supported or symbolized anyone who was LGBTQ.
"To me the Day Of Silence is a great idea to get all these people together," sophomore Brett Davidson said. "I believe people should do the Day of Silence so they know how others feel to not be able to speak up for themselves because they're scared to and to prove no matter what the people who have gone silent are still wanting fight."
The Day Of Silence is an important event that shows how students will stand by their peers and stand up to bullying.
"Everyone should be able to be accepted for what they believe in and who they feel that they are," Gettier said.