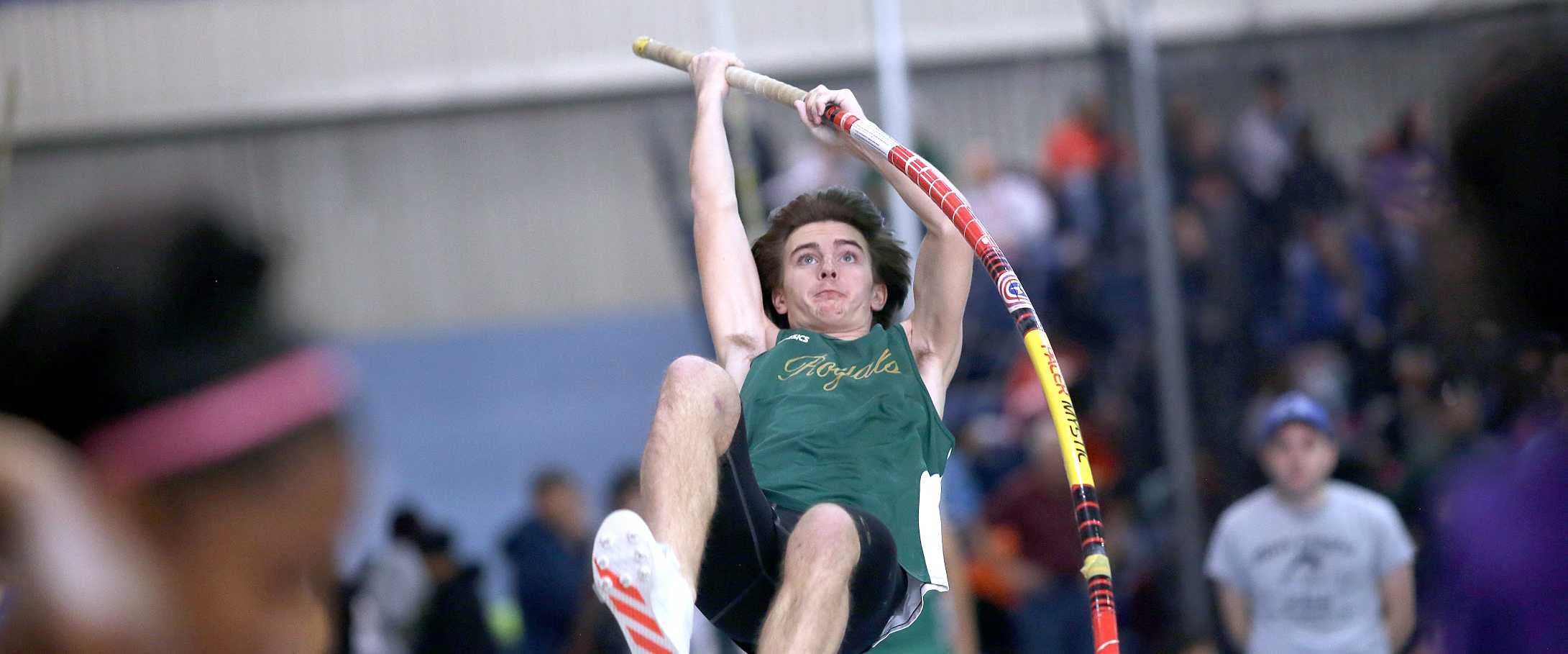 The athlete takes a moment at the end of the runway. Seconds pass, and after collecting himself, he takes off. As he gets closer, he steadies his pole, building energy to launch himself. Ten meters. Eight. At five meters, he sets his pole. As he slowly gains elevation, he becomes a contortionist, bending his body to get over the bar.
This is pole vaulting, and it is one of the track and field events athletes can compete in with VHSL indoor and outdoor track.
There is not an ample amount of vaulters that have competed, but there are those, like sophomore Sara Radford, that are hoping to get in on the action after getting more familiar with the motions.
"I haven't vaulted yet [in competition], but just learning the basics has been interesting," Radford said.
Radford has competed in multiple relay events in the previous season, and says that while she has the runner experience, the transition does present its challenges.
"I've only done two practices of it, but I can already tell it's a lot different," Radford said. "It requires a lot more upper body strength, and running does take technique, but the technique is different for pole vaulting because of the way you have to use your arms, and you have to hold the pole."
With the start of outdoor coming up, Radford is excited to get her chance and gain important experience for future competition.
"I definitely say I'm both [excited and nervous], I'm definitely going to get into it more come outdoor season," Radford said. "I'm excited to start because I want to learn, but I'm also extremely nervous because you get three tries at the certain height, and then you either move on or you don't, and that's just kind of nerve racking to me."
Track head coach William Stevens says it takes a high awareness to become a pole vaulter.
"It takes a lot of focus," Stevens said.
While there is some inexperience present, Stevens still has some athletes who have competed in competition. Junior David Mulkey has competed with promising results.
"His highest vault is 10-6, he hopes to go for 11-5," Stevens said.
Stevens is happy to have the youth on his roster, and says that there is an advantage to having his team on the younger side.
"Advantages [to having more new athletes] are that they are like a clean slate," Stevens said. "I can teach them the right way to do things as opposed to the wrong things they often come with."
With three vaulters, Stevens hopes that the limited number of participants will increase in the near future.
"I hope more kids do take the opportunity," Stevens said. "We have a great coach [US Army Major William Mulkey] that has great relationship with Aim HIgh, an indoor vaulting facility. He takes vaulters there and these guys have coached Olympic as well as some of the best in high school."
With access to training facilities of this nature, Stevens hopes the opportunities get students motivated to give the sport a try.
"It's an amazing event," Stevens said. "Not everyone can be the fastest sprinter or run amongst the best distance game runners out there. Pole vaulting allows a kid who is maybe an average runner with average strength come in, work hard, and do thingsthey never thought possible."
Radford also hopes for more people to come out to share her love for the sport and for the school's name to be more well-known."
"I really love the sport, and we definitely need more people," Radford said. "I want Prince George's name to be bigger for track. I feel like a lot of people graduated, and not a lot of people from the lower grades come up like they normally do, and I feel it would be amazing to get more people out and get us known."