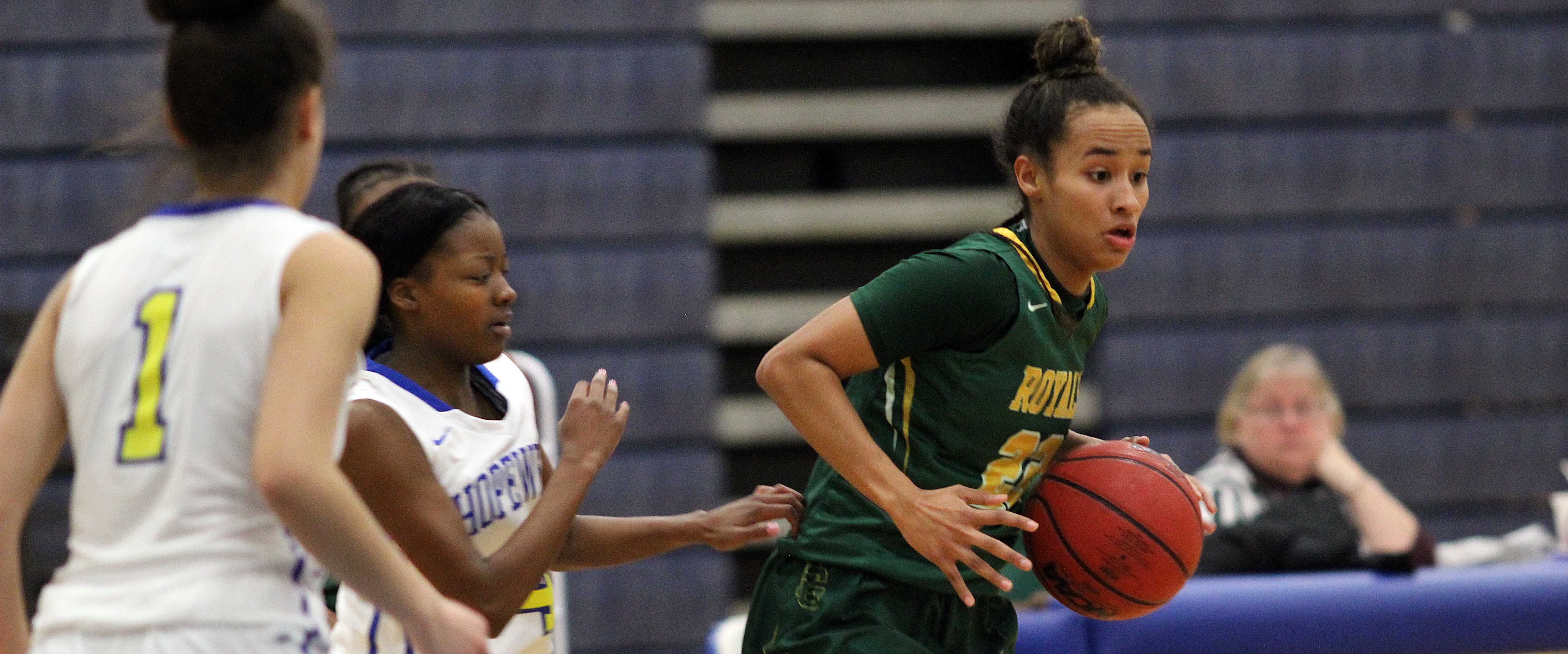 Early in the second half against Hopewell on Monday, Feb. 5th, senior Taylor Stevens found herself at the foul line. After making the first shot the crowd burst into a frenzy of excitement.
Stevens had just reached one of the biggest milestones of her high school sports career: earning a total of a thousand points over the course of her four years playing varsity basketball for her Lady Royals.
Reaching that many points is not an easy feat. To reach that many points, a player can never slack off and must give their all in each and every game played. They spend a lot of time out on the court, and work hard at improving their skills. Stevens did just that, and more. She also balanced a heavy course load and several clubs, including Forensics and DECA.
"It feels great," Stevens said.
She earned twelve points in Monday's game against Hopewell, exactly how many points she needed to reach the big milestone.
"My parents were the main ones worrying about it, so [I had to] get them off my back," Stevens said.
She remained humble, but the pride on her face was visible, and that pride was very rightfully deserved.
Stevens has been working towards this goal for years. She began playing basketball in the third grade, and worked up her skills until she reached the varsity level. Stevens has been on the varsity team for all four years of high school, and is a leader and role model for the other girls on the team. She puts her heart into the sport, and it shows as she racks up the points every game.
However, as talented as she may be, Stevens admits that it has not always been easy for her. She suffered two significant injuries over the course of her varsity basketball career,
"It's been really hard. I had two injuries, so I've missed half the season with one injury and the ending part of another with my other injury," Stevens said. "It's been a real tough thing to get, because you play so many good teams, [and] so many games back-to-back. It really wears [down] on your body."
Stevens, of course, has recovered from her injuries and is now back on the court.
Stevens could not have reached the illustrious thousand point club without the help of her mentor, girls varsity basketball coach Shavohn Curley. Curley has watched Stevens grow and improve her skills greatly over the past two years they have worked together.
"[Thousand points are] pretty hard to reach. You gotta put up some points to get a thousand in four years of high school," Curley said. She knows firsthand how hard it is to earn that many points, as she reached the same milestone during her own varsity basketball career.
"I'm excited [for her] I told her, 'Welcome to the club!'," Curley said.
Though the basketball season is quickly coming to a close, and, with it, her high school basketball career. Stevens knows she will continue to take her love for basketball with her after she graduates and moves on to accomplish more of her many goals in life.
"[Basketball] leads me to other opportunities. It's not just like just playing a game, it's giving me so many more opportunities that I wouldn't have got without basketball," Stevens said.
The biggest opportunity the sport has brought Stevens in high school is the chance to play again in college. In the fall, she will be attending Queens University of Charlotte in North Carolina. Stevens received a full ride to the college, and will study to become a doctor while she continues to play her favorite sport.