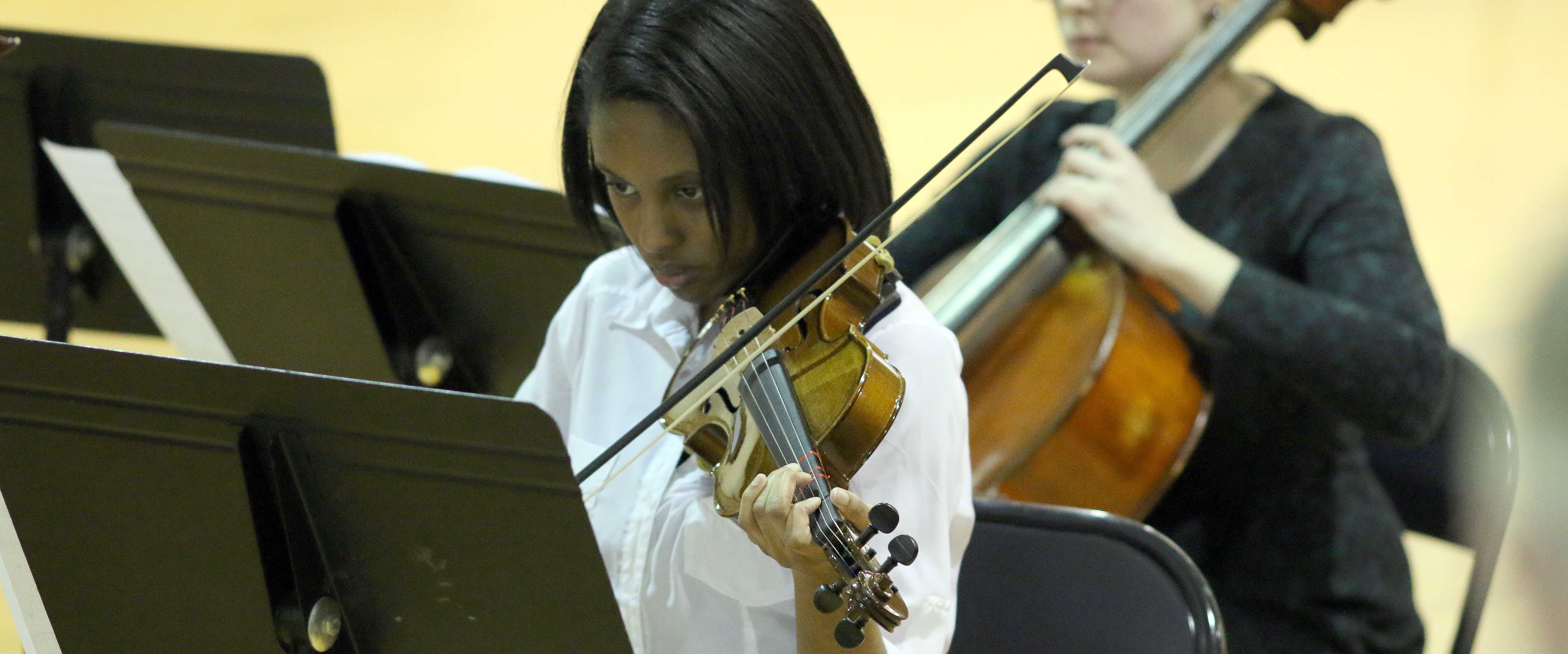 On Wednesday, Jan. 31st, the ensemble known as Strings Alive performed in the gymnasium at J.E.J. Moore Middle School. Students from elementary, middle, junior high, and the high school played strings instruments in front of a large audience of friends, family, and faculty.
For members of the strings ensemble the performance was a culmination of long hours of practice outside of the normal school hours.
"The purpose of the concert was to kind of help us express our musical abilities to our families and friends," junior violinist Julia Dickey said.
The concert started with the beginning group which consisted mainly of 4th and 5th grade students who were just beginning to learn how to play the violin this year. South Elementary choir teacher Laura Serfass instructed the students in all lessons after school. Serfass plays the cello and accompanied the students throughout the night on piano.
The largest group to perform consisted of the beginners, but for the chamber ensemble members the group has been a big part of their time in school.
"When I was younger, I saw a movie where the main character played the violin. I saw the passion in her face and I immediately wanted to make music like that," freshman violinist Abbie Glazier said. "A girl from my church told me about it. I started two years early, but the instructor said I was mature enough to continue."
A big reason why so many of the older students have stuck with it is due to the connections they have made.
"[The best part of Strings Alive] is the bond it creates. I've become friends with people I never would have had it not been for Strings Alive," Glazier said.
Strings Alive from PGTV NEWS on Vimeo.
In addition to the beginning group, and the two other more experienced ensembles, two soloists performed, junior Anna Mitchell and seventh grader Caden Hester.
"I did have a solo… and I was very nervous because I do have performance anxiety but I got up there and I played it," Mitchell said. "It's always amazing playing as a team. We've gotten really close the past several years – we are just one big family."
At the conclusion of the concert, Mr. Willie Elliott, former choir teacher and currently director of gifted and Title I, recognized the founder of Strings Alive, Larry Lyles. Lyles started the program with grant money around ten years ago.
The group will perform at least once more before the end of the year.