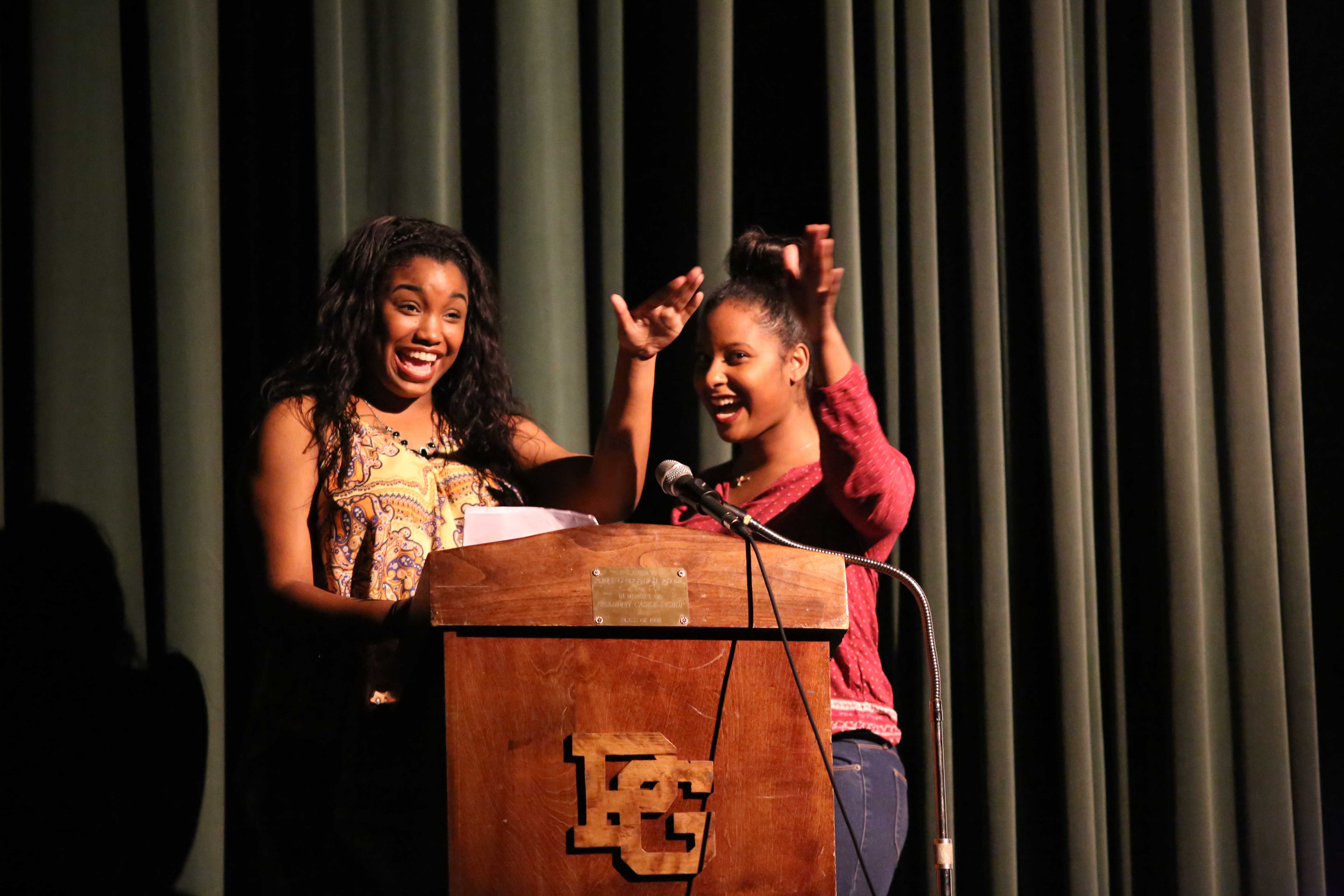 Bright lights shine on students in the auditorium as they celebrate and speak about the historic achievements of African Americans to the community.
The month of February is Black History Month and to celebrate this historic time the SADD club is holding a program to acknowledge African Americans' culture. Initially the event looked like it was not going to happen due to the amount of time needed to prepare for the program. But now the program is renewed for another year of inspiration and will be held on Friday, Feb. 23 during 7th block.
Teacher Takisha Ogunyemi is the five year adviser of the SADD club and the Cultural Awareness club.
"I began sponsoring Cultural Awareness in 2011-2012, and in 2012-2013 the adviser of SADD at that time asked me if I wanted to cosponsor the the black history month program with SADD. Of course I said yes, and we had so much fun," Ogunyemi said.
Ogunyemi is not the only one volunteering her time with the SADD club. Sgt. Ricky Johnson has been helping Ogunyemi along the way.
"In 2014-2015, I was very fortunate that Sgt. Johnson was and has been willing to co-advise SADD along with me. He has been a blessing to me because it takes a lot of hard work and time to not only maintain the clubs but to grow them as well. This year, SADD surpassed all previous fundraising goals. This year SADD will be offering two scholarships. One for SADD members only and the other is our new MLK I Have A Dream Scholarship, which is open to all PGHS students," Ogunyemi said.
Ogunyemi has begun preparing for the Black History Program by having students audition to be in the program
"Students tend to sign up but then don't show up, and it causes a lot of stress on me and the officers of SADD. However what makes it enjoyable is that someway, somehow it all comes together at the end," Ogunyemi said. "The participants step up, do what is needed and provide PGHS students, staff, faculty and guests a great celebration of African American culture and history. It reminds and educates us all of how African Americans contributed to America throughout the years, their struggle for freedom, equality, and equity, and how strong, beautiful, and talented of a people they are."
Ogunyemi says that her favorite part of the program are the performances.
"The Black History Month Program is very stressful to put on each year," Ogunyemi said. "It requires time, resources, and patience."
Students are volunteering their time and working hard to put this program all together for their peers.
Senior Nikayla Keaton who is the president of the SADD club, auditioned to participate in the program for her second year.
"This is going the be the second year actually participating in it. Last year I was the host and this year I'm going to be doing more," Keaton said.
Anyone who wanted to spread information about black history auditioned for the program.
"The fact that it's not only just black people that are participating in it… that white people are as well, so they can feel like they can participate in it and not be discriminated," Keaton said.
Keaton explains how she prepared for her audition for the program.
"I had to read a lot of lines and it was really nerve-racking, but I just kept going over it with my friends and with my mom," Keaton said.
Students should see this program to gain knowledge about African Americans and their culture and what they have contributed to the country.
"I auditioned for it because we want people to understand our culture, and for people to understand it… we have to get up and do it, and dive into how to understand it," Keaton said.