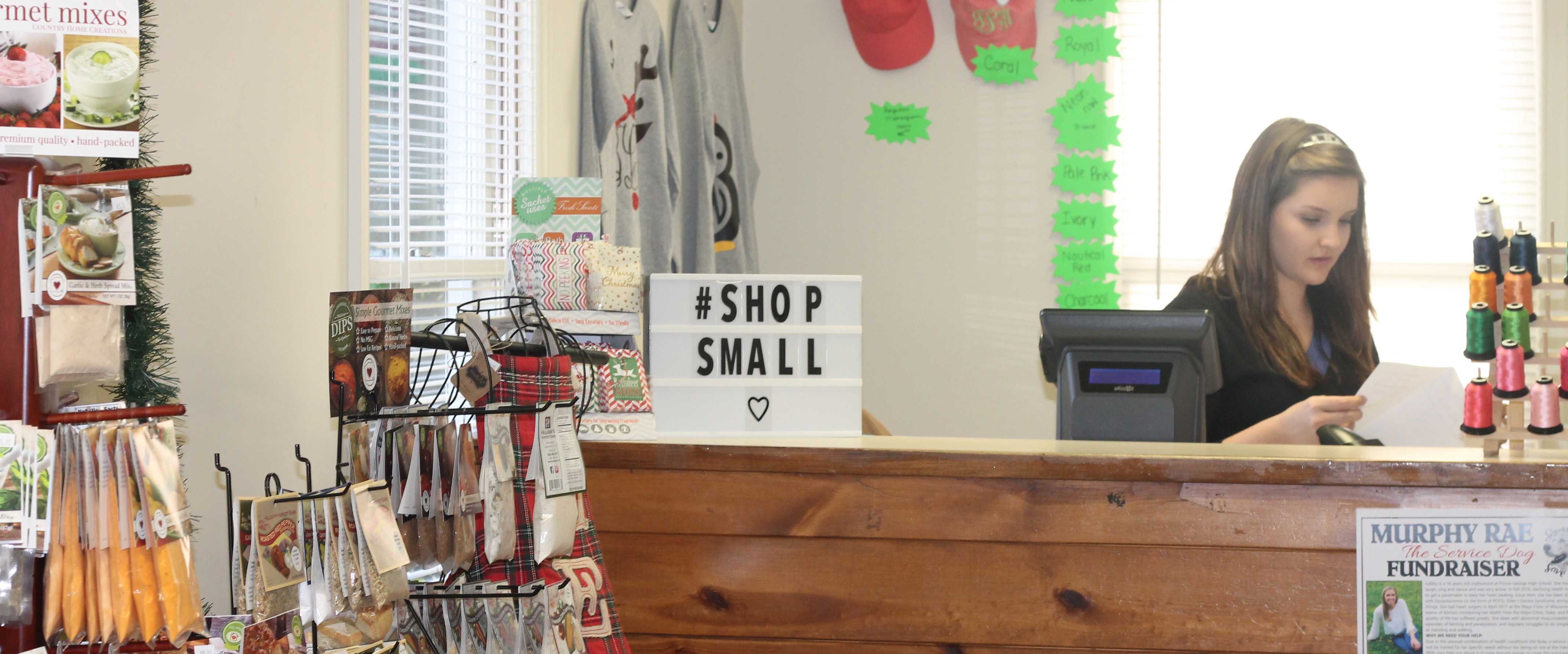 Soon after the Halloween festivities take place the holiday shopping ensues. Many people pack up and drive to the nearest mall or large outlet to seek out deals for the top presents on their lists. While some others like to stay in the comfort of their own home and search the web for all their hearts desire.
Black Friday and Cyber Monday are the most popular days to shop leading into the busy season. However there is another day just the same but for all the small businesses across the country called Small Business Saturday. It takes place the Saturday after Thanksgiving. This day is dedicated to support the small businesses and celebrate communities across the country.
"We do have a lot of business during the holidays," local store owner Samantha Previs said. "Typically business picks up about the end of October, the first week of November we will get very, very busy."
Previs owns the local store  Absolutely Southern Designs. Her relatively new spot is located in Prince George County at 5722 Courthouse Road, and she has been there now for 20 months. She had previously been working out of her home.
"We never really planned on opening a store," Previs said. "We just sort of started as a hobby and more and more orders started coming in. We realized that there really was a need in the area for a monogramming business, and from that we grew into the gifts just as a way to give the community a local option, where they didn't have to drive into Colonial Heights or Richmond."
Absolutely Southern Designs specializes in monogramming and embroidery. They also offer Simply Southern products, Scout Bags, Girlie Girl products, Lily Grace Products, Southern Couture products, Charles River outerwear, and some locally made items and much more. Previs and her two employees are open for suggestions and will order other items , or items they do not have for customers at request. But this local store is able to offer much more than just their products.
"Right now we have a long list of people  who come in and say 'I really want this Simply Southern Shirt or that Simply Southern Shirt.' All these places online are sold out but we are taking their names and we are actually ordering it for them," Previs said. "And when the item arrives we reach out and let the customer know that it's here."
Small businesses offer some things that huge chain stores lack because of some of the personal touches, the outstanding hospitality, and the customer service. When a customer walks into a small business the owners and employees strive to meet his or her needs and go the extra mile if needed. Whereas the large chain stores sometimes do not have that flexibility to do these tasks.
Many customers will not return to a store if they are disappointed by the outcome of a product or they are displeased with the customer service. Each store has it's qualities to keep their customers coming back for more.
"I have been coming to her as long as she has been operating," Jessica Lee said. "Her rewards system gives me discounts with x amount of dollars and monogramming is free with items bought from her."
Shopping at local businesses helps to ensure that some of the money you spend stays within that local community and that money is not outsourced to other places. Also, it is very important to shop at smaller businesses because they are local people trying to make a living.
"I believe it is important to shop small during the holidays because the small business owners need revenue to fund their own Christmas," Lee said. "And the personal connection with the owner helps me to make more choices for my items."