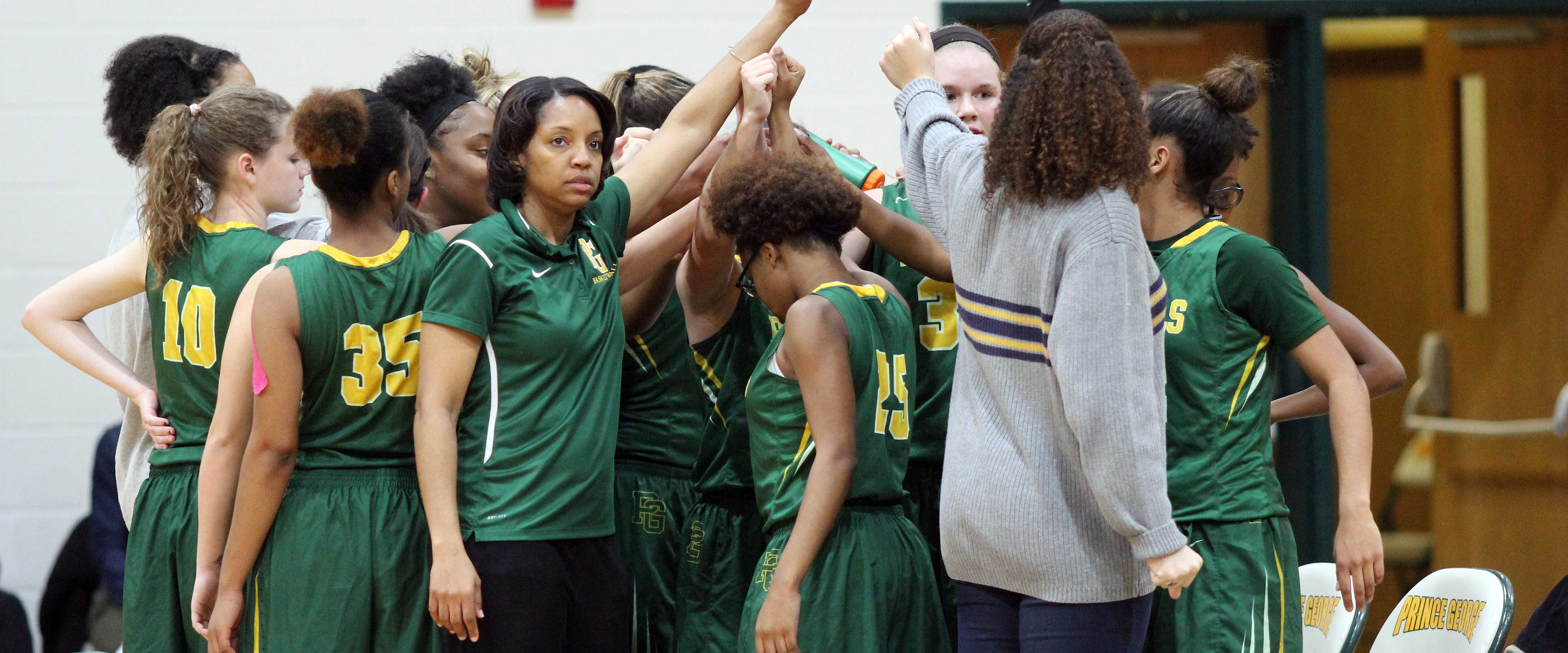 Coming into her second season as head coach for the girls varsity basketball, Head Coach Shavohn Curley has her goals set to going to states and playing on her old home court. Curley played basketball for Virginia Commonwealth University from 1997-2002.

She red-shirted one year due to an ankle injury which is the reason she stayed an extra year. Playing guard at VCU really allowed her to understand the game better which now contributes to her coaching abilities.

"Our major goal of course is to make it to my home court the Siegel Center at VCU," Curley said. "I try to get them focusing on reaching the smaller goals first but keeping the larger goal in the back of their mind."

Curley stated that Hopewell will probably be their toughest game in the regular season. Something she learned over her basketball career to prepare for her opponents was watching film, and that is something her and her girls are doing to fix mistakes and prepare for their opponents.

"I like to use film as a tool to help prepare my players," Curley said. "That was an effective tool in college for me and I share that experience with our girls."

Coming into the season, the Lady Royals have five returning seniors on the mostly underclassmen team. That being said, those five have a lot of teaching and mentoring to do so the seven new players coming up from junior varsity can adjust to the faster varsity pace.

The speed of the game at the varsity level differs from the speed at the junior varsity level. Varsity players are not only stronger, but the game moves a lot faster. Additionally the girls have to adjust and learn Curley's style of play.

"They are required to learn new offenses and adjust to the speed of the varsity level," Curley said. "Majority of them are still trying to make those adjustments."

There is always those couple players on teams that can hop right in and automatically contribute good numbers to the team. Any coach is always delighted to have these players on their team.

"Freshman Thaydn Harpin and freshman Savana Goodson have added a lot of much needed size in the post area," Curley said. "They allow us to have more of a post presence this year."

Since having a young team, the seniors have to step up as leaders and mentor the younger players. Sophomore Molly Ashcraft stated that senior Kierra Jefferson has really done a good job taking all the younger players under her wing.

"When one of us isn't doing well, she is there to pick us up and our mistakes," Ashcraft said. "She is an all-around player and does her best through it all."

Curley praised senior Nekevia Gause on her being the "mother" of the team because she always keeps the girls focused on the game and reminds them to keep their heads up.

"Her nickname is the "mother" of the team," Curley said. "She goes into "mama mode" pretty often in practice and off the court."

Over the offseason, senior Taylor Stevens committed to continue for athletic and academic career at Queens University in Charlotte, North Carolina. That does not mean Stevens is taking this year lightly, she has bigger goals she hopes to achieve.

"I want to reach 1000 [points] by the end of my season but to also make my teammates better by encouraging them and passing the ball," Stevens said. "Our goal is to get to states and compete for the state championship."

If you ask any players on this team, they will all say we want to go to states. However, in order to reach the final stage, they will have to focus on the smaller picture.

"I try to get them focusing on reaching the smaller goals first, but keeping the larger goals in the back of their mind," Curley said.