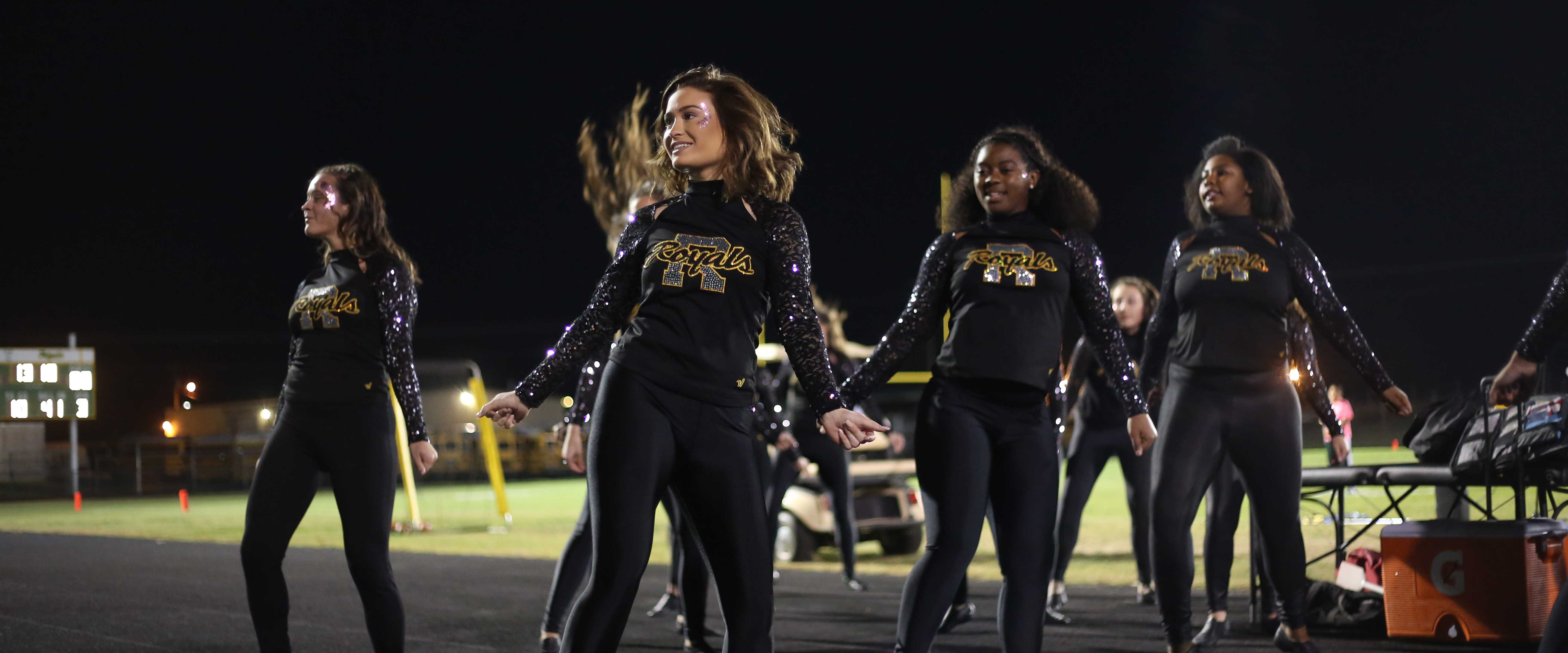 As football season ends and basketball season begins, both inexperienced and previous members of the Royals Dance dance team begin to practice for basketball season.

For the 2017-2018 basketball season, the Royalettes welcome three new dancers.

"For this season I am most excited about learning new dances and having the new members of dance team share the dance floor with us," captain, India Richardson said.

Richardson is a senior and has been dancing with the Royalettes throughout her high school career. Her favorite thing about the dance team is the connections the dancers have with one another.

"The thing I enjoy most about dance team is how close we have become while doing something we love," Richardson said, "It has become a second family for me."

The dance team welcomed new members to the team as well this season. Seniors Nicole Peters and Aalaya Porre are two of these new members. Porre and Peters were on the football varsity cheerleading team, but they both decided to join the dance team rather than do basketball cheer.

"I wanted to broaden my horizons and try something new," Peters said.

Peters had previous dancing experience but waited until her senior year to join the dance team.

"I have always admired from afar, but it hasn't crossed my mind [to join the dance team] until now," Peters said.

However, Porre did not have any experience prior to this year. Porre explained that she had always considered joining the dance team, but she has put her love for cheer first.

"When I️ heard tryouts were happening for dance basketball season I️ knew it was my first and final opportunity to do it so I️ said 'why not'," Porre said.

Peters and Porre were both given a warm welcome despite them coming in middle of the season.

"I enjoy the fact that the team has been welcoming considering it's my first time dancing and have made me a part of the family," Porre said.

To make the team more as a family, the team plans a Christmas party at the coach of the dance team's house. There, they will exchange their presents they have gotten for their secret Santa.

"I love doing secret Santa because it makes the other person happy and it brings us together as a team," junior Mickiya Tatum said. "We may have had our differences and disagreements throughout the season but doing things like secret Santa and taking a day to celebrate each other is gonna bring us together and kinda act like a reset button and it is gonna give us a chance to get to know the new dance team members and form a bond with them."

Even with new members, the team still continues to practice for competitions and other events such as senior night, for the basketball season. However, some dancers, who have been on the team in previous years, are a bit concerned.

"I'm concerned that some of the new people, or that aren't very experienced in performing, or being in a dance team," said senior Tina Fulmore. "It's not like a studio where you get longer practices and time to perform everything. So I'm just concerned with the time we're taking."
Despite these concerns, Fulmore does admit she is excited for this season.

"Mostly because I'm a senior and it's my last season, it makes it so much more exciting for me," Fulmore said. "I get to experience everything for one last time, so that's really exciting for me."

Fulmore has been dancing since her early childhood and has been with the dance team for a few years now.

"I mostly enjoy performing," Fulmore said. "It's hard to explain but just the crowd and everything, especially the hype we get, is usually really fun for me."

Both Fulmore and Richardson have been on the team in previous years and this year they are seniors and are preparing for the Senior Night. They both admit, that this being their senior year makes this even more special to them.

"What makes this year different from the rest for me is how close I've become with each person on the team," Richardson said. "Especially the seniors, because it's our last year and we realized that we won't ever be the same team again, which makes our bond stronger."

Members of the dance team are all excited for different reasons, from learning new dances to building new bonds.

"I am most excited about learning new dances and having the new members of dance team share the dance floor with us," Richardson said.

With all the new changes and the addition of new members, the team has a lot to look forward to.